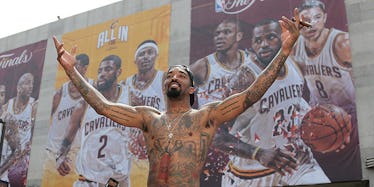 President Obama Hilariously Told JR Smith He Needs To Start Wearing A Shirt
REUTERS
JR Smith provided us one of those rare occurrences in which we can say something is literally happening, and it's actually literally happening.
To be more specific, it looks like JR literally hasn't put a shirt on since the Cavs won their first NBA Championship on Sunday night. After Cleveland clinched the title in Game 7, we saw Smith at the podium with a shirt on.
Since then, though, it's been all chest.
He partied in Las Vegas with the rest of his teammates, without a shirt on.
He got out of the plane that took the Cavs back to Ohio, without a shirt on.
LeBron just brought the back to THE LAND and OMG JR SMITH LEFT HIS SHIRT IN VEGAS pic.twitter.com/XaNxeVSDaP — Justin Block (@JBlock49) June 20, 2016
He's even walked around with his daughter through the streets of Cleveland, without a shirt on.
And, now, it's time to put a shirt on. Why? Because the president of the United States of America asked him to.
Near the end of a congratulatory call with Cavaliers head coach Tyronn Lue, President Obama gave an oh-by-the-way request.
It looks like JR Smith listened, too.
Who says executive orders don't work?