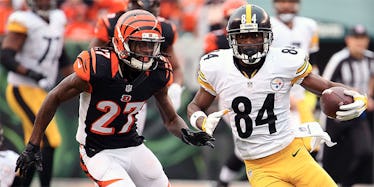 Marquee Matchup: 5 Predictions For The Steelers-Bengals Playoff Game
Getty Images
The 2015 NFL Playoffs are upon us, and you wont find a much more competitive game than the one being played in primetime on Saturday night.
Yes, I'm talking about the Cincinnati Bengals and the Pittsburgh Steelers, who have developed quite a rivalry in the past several years.
This AFC North battle almost always generates a hard-fought, emotional game, but with the playoff environment added to the scenario, we are in for a show.
Not to mention, the Bengals have the opportunity to win their first playoff game since 1990, after losing in the first round for the past five years.
This will be a heated matchup, which I'm confident will come down to the final minutes, as it usually does between these two teams.
Here are my five bold predictions leading up to this much-anticipated game:
Big Ben will accomplish two turnovers in the game.
Pittsburgh Steelers quarterback Ben Roethlisberger has been Mr. Dependable lately, apart from his subpar performance against the struggling Baltimore Ravens during Week 16.
He has led his team to yet another playoff berth, and continues to prove he is one of the best in the league.
However, this weekend, he will face a Bengals defense that's ranked third in the NFL in interceptions.
They also happen to be in a desperate scenario, looking for their first playoff win in 15 years.
I strongly believe the Bengals will come out at the top of their game in an effort to end this horrific drought.
Big Ben may be on a hot streak, but the Bengals' defense will have his number on Saturday night, forcing the elite QB to turn the ball over at least twice in the game.
Jeremy Hill will be the game changer and the MVP in the game against the Steelers.
Bengals second-year running back Jeremy Hill has had an up and down 2015 season, which is quite disappointing after his Rookie of the Year nomination last year.
According to the offensive depth chart, Hill is considered the starter, but it's Giovani Bernard who has proven to be more effective in the backfield.
This in no way means Hill is incapable of breaking loose in the playoffs, though.
In fact, with the current QB situation in Cincinnati, all eyes will be on this game to see if it will carry the Bengals to a home win.
This may be difficult against Pittsburgh, who are the fifth team in least amount of yards allowed per game.
But, the Bengals should have a game plan in effect to exploit some holes.
Even if Andy Dalton returns from injury this week, he may still need some time to get back into the swing of things.
I expect a heavy dose of Hill in this game, and wouldn't be surprised if he excels in front of his home fans and becomes the game changer in the game.
Big Ben and Antonio Brown will gain over 100 yards in the game together.
I think we can all agree on one thing: Ben Roethlisberger and Antonio Brown are one of, if not the most dangerous QB-WR duos in the NFL.
Regardless of the outcome of this game, or how effective the Steelers' offense is on the road, it is almost guaranteed that Brown will rack up over 100 yards receiving.
In fact, in the 12 games this season that Roethlisberger was behind center, Brown had over 100 yards receiving in eight of them, and he eclipsed 180 yards in four of those.
He is simply extraordinary and almost impossible to defend.
The Bengals' secondary will definitely have their work cut out for them Saturday night.
It's virtually impossible to stop Brown, but they will need to have a game plan in place to contain him if they want to come out on top.
Mike Nugent will make the game winning field goal as time expires.
There is no doubt in my mind that this will be a one-score game in the end.
The AFC North is arguably one of the most competitive divisions in the NFL, and you can always count on a hard-fought battle each and every time these teams meet.
There is a great possibility this game will come down to a field goal, and while Mike Nugent hasn't been the most reliable kicker over the past couple seasons, he will be given the opportunity to make the biggest kick of his career on Saturday.
The question is, will he come through for his team and put an end to the 15-year drought that continues to haunt the city of Cincinnati?
I happen to believe he will.
The Bengals will prevail 23 to 20.
I may be going out on a limb here — and I know many will disagree with me — but I have a strong gut feeling the Bengals will come out on top in this game to win their first playoff game in 15 years.
The elephant in the room, of course, is the uncertainty of whether or not Andy Dalton will take the field for the first time since breaking his thumb in Week 14.
I believe that whether it's Dalton or AJ McCarron behind center, it will be a close, hard-fought game between AFC North rivals who always play each other well.
We are in for quite a show on primetime Saturday night, but expect the Bengals to defy all odds and finally get that playoff win they've been vying for for so long.