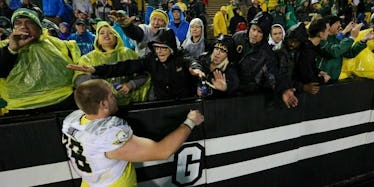 The Oregon Ducks Are Giving Free Tickets To Students And Staff Of UCC
Last week, the country came to a standstill as news broke of a shooting at Oregon's Umpqua Community College.
In total, nine people were killed before the gunman, Chris Harper Mercer, reportedly took his own life.
This week, Oregon looks to try and rebuild in order to get back to some semblance of normalcy. And the University of Oregon is doing whatever it can to help that mission.
Yesterday, the university's athletic department announced it's offering all students and staff of UCC free football tickets to the Ducks' Saturday home game against Washington State University.
The announcement said,
On behalf of the University of Oregon Athletic Department, we want to invite you to attend the Oregon vs. Washington State Football game on October 10, 2015 at 3 pm. After entering your information below, you will be e-mailed a promotional code that is good for up to [four] FREE TICKETS to this weekend's game. Please call 541-346-4461 if you have any questions.
Respect, Ducks.
Citations: Oregon shooting: Medical examiner rules gunman killed self, sheriff says (CNN), Oregon Ducks giving free football tickets to UCC students/staff (The Oregonian)