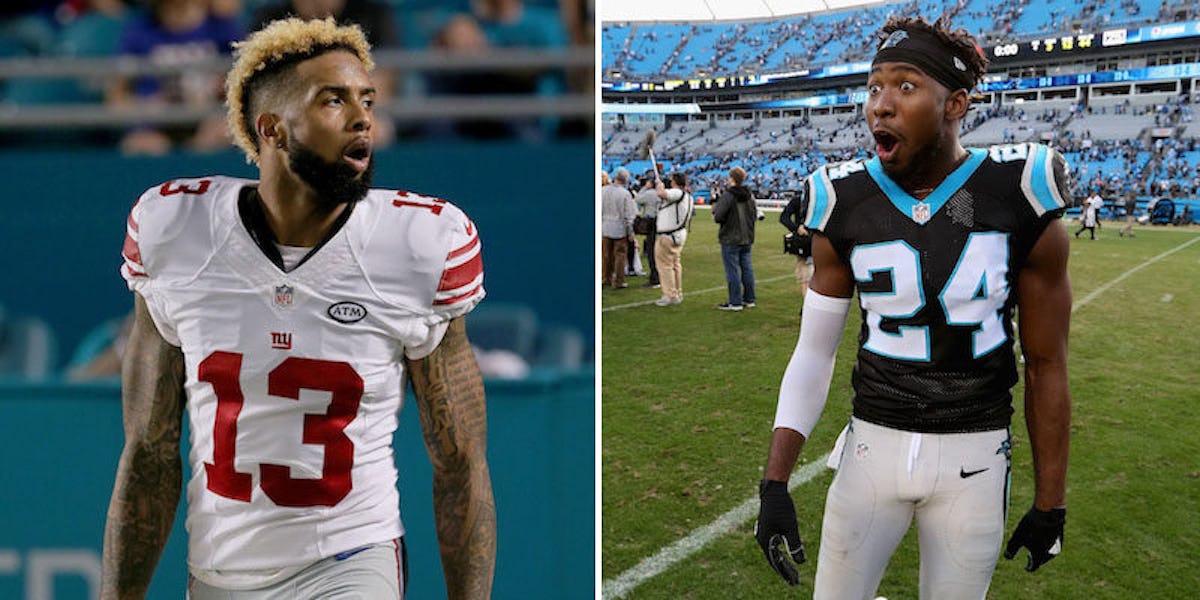 Odell Beckham Jr. Lost His Head, But The NFL Is Losing Its Damn Mind
Getty Images
As I listened to the second half of Sunday's Panthers-Giants game on the radio -- I was stuck in traffic coming home from visiting family -- I wondered what the hell was wrong with Odell Beckham Jr.
Here's a 23-year-old offensive beast who's playing against the best team in the NFL while trying to help his team win the division and make the playoffs.
And instead of focusing all his energy on getting separation from Panthers cornerback Josh Norman and making big plays, he got into a physical fight with the defensive back on what felt like every play.
The Giants radio announcers repeatedly called for Odell to either be benched by Giants head coach Tom Coughlin or kicked out of the game by NFL officials.
Neither of those things happened, and when Odell caught the game-tying touchdown over Norman with just a few minutes remaining in the fourth quarter, I didn't know how to feel.
OK, that's a lie. I was over the moon, the Giants just erased a 28-point deficit in less than two quarters.
But I absolutely felt uneasy about Odell Beckham Jr. still being in the game -- not so much because of what he had done, but because of what he might still do.
The Giants wound up losing the game in the final moments, as they've done so many times this year, but most of the talk Monday morning was still centered on OBJ and Norman.
And rightfully so.
I still couldn't help but think there was something more going on here. Why would Odell lash out physically against an opponent and risk so much for no reason?
But there was a reason. Yesterday afternoon, reports started to trickle in that Josh Norman and several other members of the Panthers may have threatened the Giants star wide receiver with a black baseball bat.
That bat, the Panthers say, is merely a rallying tool for the team. They use it every weekend.
Panthers officials deny strongly any threats or slurs were made and are adamant they have long used a bat as a motivating prop... — Jason La Canfora (@JasonLaCanfora) December 21, 2015
I don't know about you, but it looks to me like Marcus Ball is very clearly waving this bat in a threatening manner toward the Giants.
And you can easily hear someone screaming Odell's name from the Panthers' side of the field, presumably saying something the Giants wideout didn't appreciate.
Proof someone approaching Odell Beckham Jr @OBJ_3 pic.twitter.com/0vTqEk0W50 — Elliot Rooth (@yankeefan708) December 22, 2015
For a league that's had more than a few black eyes when it comes to dealing with issues of violence, yet is quick to drop the hammer on a player who wears socks or shoes to show support for breast cancer outside the month of October, isn't it reasonable to think they might've put a stop to allowing baseball bats on the field back in Week 3?
Then, in the midst of all these reports surfacing, the news we expected to come finally did.
Odell Beckham Jr., pending appeal, is suspended for one game without pay.
Odell Beckham suspended: https://t.co/Rp9ceCwYdW pic.twitter.com/w0djntnMsr — NFL (@NFL) December 21, 2015
While the reaction to that decision started to trickle down through your newsfeed, more reports surfaced about what happened during the Panthers-Giants pregame.
NFL legend Deion Sanders hopped on the Rich Eisen show to give his two cents.
He stated clearly Josh Norman slung homophobic slurs and made direct physical threats to Beckham on the field.
Deion Sanders says that Norman called Odell a "fa**ot", carried around a baseball bat pregame and told him he was "gonna end his career". — astromarko (@astromarko) December 21, 2015
And NFL Hall-of-Famer Chris Carter corroborated those claims by apparently speaking with Norman himself.
Yes https://t.co/Ub9ZWhqGOl — Cris Carter (@criscarter80) December 22, 2015
Make no mistake, though, the fact Josh Norman appears to have verbally abused Odell Beckham Jr. does not make the physical reaction it elicited from the Giants wideout right.
Odell took shot after shot at Norman, including a brutal helmet-to-helmet hit that occurred in the second half of Sunday's game.
This is so damn dirty. So disappointing from Odell. pic.twitter.com/wH1c5tfPYv — Daniel (@benchwarmerdan) December 20, 2015
Those calling for Giants coach Tom Coughlin's head because he refused to take his best offensive weapon out of the game are delusional, though. Coughlin's job is to win football games, not officiate them.
Not only is he trying to get his team into the postseason, he's fighting for his own job.
No, the responsibility to tell Odell Beckham Jr. to hit the showers early on Sunday falls squarely on the shoulders of the NFL officiating crew in charge of the game.
And, if NFL referee Terry McAulay and his crew ejected OBJ from the game, possibly before that helmet-to-helmet hit, we might not be having the suspension conversation today.
To make matters worse, as the NFL has a knack of doing, the league has issued a statement on Beckham's suspension, saying,
...the conduct of other players in the Panthers-Giants game is being reviewed for potential discipline in the form of fines.
Why would the league limit itself in terms of the types of punishment to be doled out?
Why do physical altercations constitute suspensions while homophobic slurs and threats get dealt with through monetary penalties?
This is a dangerous precedent to set in a sport that, for all the safety efforts being made, appears just as dangerous today as it was yesterday.
On Sunday, Odell Beckham Jr. lost his head and may have ultimately cost his team the game, but he's a 23-year-old athlete whose job is to play with passion and emotion.
Today, the NFL is showing once again why it shouldn't be counted on as a voice of reason, a fair governing body or an organization that shows a shroud of common sense.
Citations: New Video Shows Confrontation Between Odell Beckham Jr. And Bat-Carrying Panthers Player (Deadspin)