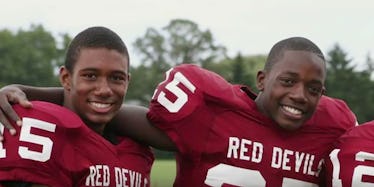 Friday Night Highlights: 30 NFL Players Who Were High School Teammates
YouTube
When you look across the country, it's easy to pick out the powerhouses of high school football.
Point to the Midwest and you'll find Cleveland's Glenville High School football team coached by Ted Ginn, Sr., whose son and namesake rose through the Glenville-Ohio State-NFL pipeline.
In the Northeast, New Jersey's Bergen Catholic is currently the top dog, but in-state rival Don Bosco Prep has historically been the name brand for gridiron in the Garden State.
Out west, Long Beach Polytechnic has a reputation for producing athletes and Hollywood celebrities, but Florida's St. Thomas Aquinas takes the cake when it comes to producing the most NFL players in history.
Despite how good all these programs are, having multiple future NFL players on one squad is still a pretty tough feat to manage. But when it happens, it's worthy of note.
Here are 15 pairs of NFL players you didn't know were killer teammates in high school:
Ted Ginn, Jr. & Donte Whitner -- Glenville High School (Cleveland, Ohio)
Teddy Bridgewater & Amari Cooper -- Miami Northwestern Senior High School (Miami, Florida)
Even with the senior Bridgewater at quarterback, Amari Cooper didn't have much of a season to write home about during his junior year, which only yielded 16 catches.
Now, Bridgewater would probably kill to have the 2014 Heisman finalists on the Vikings' roster.
Reggie Bush & Alex Smith -- Helix High School (La Mesa, California)
In 2004, Bush and Smith became the first pair of athletes who graduated from the same high school to be named Heisman Trophy finalists in the same year.
Geno Smith & Stedman Bailey -- Miramar High School (Miramar, Florida)
Smith and Bailey not only went to high school together, but they also played at West Virginia together and entered the draft together. While they were with the Mountaineers, the chemistry was beyond evident.
Richard Sherman & Jeron Johnson -- Manuel Dominguez High School (Compton, California)
While winning the Super Bowl with the Seahawks is the most impressive thing this duo has done together, the fact that they graduated from Dominguez together is also worthy of note, which gives us the perfect reason to laugh at this gem of a photo from their signing day.
Osi Umenyiora & Demarcus Ware -- Auburn High School (Auburn, Alabama)
Before they were on opposite sides of the Cowboys-Giants rivalry, these two road the bus together to Auburn High School.
Ware even credited Umenyiora for helping the former get recruited at Troy University, where they reunited in college.
Look at Troy state's finest. @DeMarcusWare@lt4kickspic.twitter.com/l76MYMMaY7 — Osi Umenyiora (@OsiUmenyiora) April 3, 2015
Josh Cribbs & Vernon Davis -- Dunbar High School (Washington, DC)
Before Josh began taking it to the crib as an NFL kick returner, he was throwing passes in DC to VD. Back then, Davis was r-a-w, raw. Cribbs told the IndyStar,
He had talent but he wasn't a true tight end and he wasn't a true defensive end. But those were the positions that his body-type fit. So we had to just teach him both.
I think it's safe to say things worked out for Davis.
Peyton & Cooper Manning -- Isidore Newman School (New Orleans, Louisiana)
This pair earns its place here for the "what if" factor alone. Cooper, the eldest Manning, became an All-State receiver when Peyton, then a sophomore, was the starting quarterback.
Cooper never got to play in the NFL, however, because he was diagnosed with spinal stenosis before he could play a game for Ole Miss.
Odell Beckham, Jr. would eventually break Cooper's receiving records at Isidore Newman.
Marqise Lee & Robert Woods -- Junípero Serra High School (Gardena, California)
Together, Lee and Woods formed a dynamic duo at Junípero Serra and USC. Individually, though, one always served as extra motivation for the other to succeed, as outlined in the video above.
DeSean Jackson & Marcedes Lewis -- Long Beach Polytechnic High School (Long Beach, California)
In 2001, DeSean Jackson played as a freshman on Marcedes Lewis' Long Beach Polytechnic team. MaxPreps' Mitch Stephens regarded that incarnation of the Jackrabbits as "the most athletic collection of high school football players from one team."
Stephon Gilmore & Jadeveon Clowney -- South Pointe High School (Rock Hill, South Carolina)
Gilmore and Clowney led the stallions to the Division II AAAA state championship during an undefeated season in 2008. The two would then go on to play for Steve Spurrier at South Carolina.
Giovani Bernard & Phillip Dorsett -- St. Thomas Aquinas High School (Fort Lauderdale, Florida)
The St. Thomas Aquinas football team was the top team in the country when Dorsett was a sophomore and Bernard was a junior. Their chances of repeating as state champs the following year, though, ended after a stunning upset in the 2009 Class 5A semifinal, a game Bernard missed because of a hamstring injury.
Melvin Gordon & Trae Waynes -- Mary D. Bradford High School (Kenosha, Wisconsin)
Gordon and Waynes played football and track and field for Bradford. Off the field, they were even better friends than they were teammates, a fact this Adam Rittenberg story highlights perfectly.
Best friends, HS teammates, now top-15 picks @TWaynes_15 and @Melvingordon25. My story: http://t.co/DDfBhKL0ZApic.twitter.com/PZ673NaSqm — Adam Rittenberg (@ESPNRittenberg) May 1, 2015
Eddie Lacy & Eric Reid -- Dutchtown High School (Geismar, Louisiana)
In April 2013, Lacy and Reid became the first two teammates from the same high school to be selected in the first round together. It wasn't long 'til they were celebrating another notable feat together.
@Lil_Eazy_Ana_42 and I haven't been on the same team since high school...guess we aren't starting now! #ProBowlpic.twitter.com/RmkUOqv8hG — Eric Reid (@E_Reid35) January 23, 2014
Brandon Lafell & Brian Orakpo -- Lamar High School (Houston, Texas)
Brian Orakpo has gone to three Pro Bowls. Brandon LaFell has won a Super Bowl. Still, neither of them is the most famous graduate of Lamar High School. That distinction goes to Ms. Kelly Rowland.