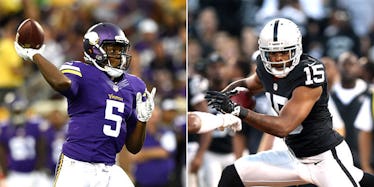 The 10 High Schools That Produce The Most NFL Players In America
Getty Images
When it comes to producing mass amounts of talent in the NFL, there's only a handful of high schools in the country that can truly consider themselves "pipelines."
It should come as no surprise that California, Texas and Florida are the most potent hotbeds when it comes to producing blue chippers playing division-1 football around the country. The chances of them getting drafted into the league is all just a numbers game after that.
But taking into consideration how rapidly the competition has evolved over the past two decades, with more emphasis on training prospects in youth leagues and new advancements in sports medicine, the high school game has essentially turned into an amateur profession.
A select group of schools throughout the country has separated themselves from the rest, however, proving that success starts early on with core values and discipline on the field that starts from the beginning.
You can't teach pure talent and desire, but you can sure as hell recruit it and mold it into something great. These are the top 10 high schools that have produced the most pros in the past 20 years.
10. Glenville (Cleveland, Ohio): 9 Players
Donte Whitner, 2006 Round 1, Buffalo Bills
Tedd Ginn Jr. 2007, Round 1, Miami Dolphins
Troy Smith, 2007, Round 5, Baltimore Ravens
Antwaun Molden, 2008, Round 3, Houston Texans
Angelo Craig, 2008, Round 7, New England Patriots
Ray Fisher, 2010, Round 7, Indianapolis Colts
Jermale Hines, 2011, Round 5, St. Louis Rams
Jonathan Newsome, 2014, Round 5, Indianapolis Colts
C.B. Bryant, 2014, Round 7, St. Louis Rams
9. Dillard (Fort Lauderdale, Florida): 10 Players
Isaac Bruce, 1994, Round 2, Los Angeles Rams
James Bostic, 1994, Round 3, Los Angeles Rams
Frank Sanders, 1995, Round 2, Arizona Cardinals
Josh Shaw, 2002, Round 5, San Francisco 49ers
Tron LaFavor, 2003, Round 5, Chicago Bears
Chris Gamble, 2004, Round 1, Carolina Panthers
Matthias Askew, 2004, Round 4, Cincinnati Bengals
Jovan Haye, 2005, Round 6, Carolina Panthers
Stanley McClover, 2006, Round 7, Carolina Panthers
Pat Sims, 2008, Round 3, Cincinnati Bengals
8. Carter (Dallas, Texas): 11 Players
Jessie Armstead, 1993, Round 8, New York Giants
Joe Burch, 1994, Round 3, New England Patriots
Greg Hill, 1994, Round 1, Kansas City Chiefs
Clifton Abraham, 1995, Round 5, Tampa Bay Buccaneers
William Carr, 1997, Round 7, Cincinnati Bengals
Jerametrius Butler, 2001, Round 5, St. Louis Rams
Daryl Jones, 2002, Round 7, New York Giants
Adrian Jones, 2004, Round 4, New York Jets
Jonathan Scott, 2006, Round 5, Detroit Lions
Michael Crabtree, 2009, Round 1, San Francisco 49ers
DeMarcus Love, 2011, Round 6, Minnesota Vikings
7. Glades Central (Belle Glade, Florida): 11 Players
Reidel Anthony, 1997, Round 1, Tampa Bay Buccaneers
Fred Taylor, 1998, Round 1, Jacksonville Jaguars
Roosevelt Blackmon, 1998, Round 4, Green Bay Packers
Johnny Rutledge, 1999, Round 2, Arizona Cardinals
JaJuan Seider, 2000, Round 6, San Diego Chargers
James Jackson, 2001, Round 3, Cleveland Browns
Claude Harriott, 2004, Round 5, Chicago Bears
Santonio Holmes, 2006, Round 1, Pittsburgh Steelers
Ray McDonald, 2007, Round 3, San Francisco 49ers
Travis Benjamin, 2012, Round 4, Cleveland Browns
Kelvin Benjamin, 2014, Round 1, Carolina Panthers
6. Blanche Ely (Pompano Beach, Florida): 12 Players
Zack Crockett, 1995, Round 3, Indianapolis Colts
Henri Crockett, 1997, Round 4, Atlanta Falcons
Al Harris, 1997, Round 6, Tampa Bay Buccaneers
Corey Simon, 2000, Round 1, Philadelphia Eagles
Tyrone Carter, 2000, Round 4, Minnesota Vikings
Jerome McDougle, 2003, Round 1, Philadelphia Eagles
Clint Session, 2007, Round 4, Indianapolis Colts
Joshua Moore, 2010, Round 5, Chicago Bears
Walter McFadden, 2010, Round 5, Oakland Raiders
J.T. Thomas, 2011, Round 6, Chicago Bears
Patrick Peterson, 2011, Round 1, Arizona Cardinals
Jabari Price, 2014, Round 7, Minnesota Vikings
5. De La Salle (Concord, California): 12 Players
Aaron Taylor, 1994, Round 1, Green Bay Packers
Doug Brien, 1994, Round 3, San Francisco 49ers
Amani Toomer, 1996, Round 2, New York Giants
Aaron Taylor, 1998, Round 7, Indianapolis Colts
David Loverne, 1999, Round 3, New York Jets
D. J Williams, 2004, Round 1, Denver Broncos
Maurice Jones-Drew, 2006, Round 2, Jacksonville Jaguars
Demetrius Williams, 2006, Round 4, Baltimore Ravens
Kevin Simon, 2006, Round 7, Washington Redskins
Derek Landri, 2007, Round 5, Jacksonville Jaguars
T.J. Ward, 2010, Round 2, Cleveland Browns
Travis Carrie, 2014, Round 7, Oakland Raiders
4. Dorsey (Los Angeles, California): 13 Players
Lamont Warren, 1994, Round 6, Indianapolis Colts
Keyshawn Johnson, 1996, Round 1, New York Jets
Abdul-Karim al-Jabbar, 1996, Round 3, Miami Dolphins
Chris Miller, 1997, Round 7, Green Bay Packers
Cedric White, 1997, Round 7, St. Louis Rams
Dennis Northcutt, 2000, Round 2, Cleveland Browns
Na'il Diggs, 2000, Round 4, Green Bay Packers
Chris Owens, 2009, Round 3, Atlanta Falcons
David Gettis, 2010, Round 6, Carolina Panthers
Rahim Moore, 2011, Round 2, Denver Broncos
Jeremy Harris, 2013, Round 7, Jacksonville Jaguars
Johnathan Franklin, 2013, Round 4, Green Bay Packers
Robert Herron, 2014, Round 6, Tampa Bay Buccaneers
3. Northwestern (Miami, Florida): 15 Players
Marvin Jones, 1993, Round 1, New York Jets
Derrell Mitchell, 1994, Round 6, New Orleans Saints
Corey Moore, 2000, Round 3, Buffalo Bills
Nate Webster, 2000, Round 3, Tampa Bay Buccaneers
Snoop Minnis, 2001, Round 3, Kansas City Chiefs
Antonio Bryant, 2002, Round 2, Dallas Cowboys
Torrie Cox, 2003, Round 6, Tampa Bay Buccaneers
Vernon Carey, 2004, Round 1, Miami Dolphins
Vernand Morency, 2005, Round 3, Houston Texans
Anthony Gaitor, 2011, Round 7, Tampa Bay Buccaneers
Lavonte David, 2012, Round 2, Tampa Bay Buccaneers
Sean Spence, 2012, Round 3, Pittsburgh Steelers
Brandon Washington, 2012, Round 6, Philadelphia Eagles
Tommy Streeter, 2012, Round 6, Baltimore Ravens
Teddy Bridgewater, 2014, Round 1, Minnesota Vikings
2. Long Beach Poly (Long Beach, California): 16 Players
Brandon Whiting, 1998, Round 4, Philadelphia Eagles
Ken-Yon Rambo, 2001, Round 7, Oakland Raiders
Terry Charles, 2002, Round 5, San Diego Chargers
Kareem Kelly, 2003, Round 6, New Orleans Saints
Samie Parker, 2004, Round 4, Kansas City Chiefs
DeSean Jackson, 2008, Round 2, Philadelphia Eagles
Jurrell Casey, 2011, Round 3, Tennessee Titans
Willie McGinest, 1994, Round 1, New England Patriots
Winston Justice, 2006, Round 2, Philadelphia Eagles
Marques Anderson, 2002, Round 3, Green Bay Packers
Marcedes Lewis, 2006, Round 1, Jacksonville Jaguars
Omar Stoutmire, 1997, Round 7, Dallas Cowboys
James Burton, 1994, Round 5, Kansas City Chiefs
Don Sasa, 1995, Round 3, San Diego Chargers
Terrence Austin, 2010, Round 7, Washington Redskins
Darnell Bing, 2006, Round 4, Oakland Raiders
1. St. Thomas Aquinas (Fort Lauderale, Florida): 17 Players
Sterling Palmer, 1993, Round 4, Washington Redskins
Albert Connell, 1997, Round 4, Washington Redskins
Twan Russell, 1997, Round 5, Washington Redskins
Daryl Porter, 1997, Round 6, Pittsburgh Steelers
Leonard Myers, 2001, Round 6, New England Patriots
Nate Salley, 2006, Round 4, Carolina Panthers
Tavares Gooden, 2008, Round 3, Baltimore Ravens
Major Wright, 2010, Round 3, Chicago Bears
Geno Atkins, 2010, Round 4, Cincinnati Bengals
Sam Young, 2010, Round 6, Dallas Cowboys
Marcus Gilbert, 2011, Round 2, Pittsburgh Steelers
Leonard Hankerson, 2011, Round 3, Washington Redskins
Christian Thompson, 2012, Round 4, Baltimore Ravens
Andrew Datko, 2012, Round 7, Green Bay Packers
Giovani Bernard, 2013, Round 2, Cincinnati Bengals
Lamarcus Joyner, 2014, Round 2, St. Louis Rams
Dezmen Southward, 2014, Round 3, Atlanta Falcons
Brandon Linder, 2014, Round 3, Jacksonville Jaguars
James White, 2014, Round 4, New England Patriots