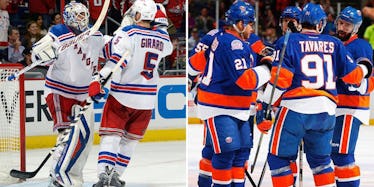 How Sh*tty NY Sports Teams Made Hockey The Coolest Game Around
Getty Images/ Facebook
The Giants (6-10) and Jets (4-12) are licking their wounds following disappointing seasons.
The Knicks are having their worst season in franchise history (10-46).
The Nets are clinging to the eighth seed for dear life (23-32), and the most exciting stories coming out of the Bronx and Queens have to do with a team that doesn't want their star back and another team who desperately needs theirs on the field.
With all of that going on, the New York sports spotlight has suddenly been cast on the Islanders and Rangers.
That's right; The New York sports world has been so sh*tty this calendar year, everyone, whether he or she knows three players on the roster or not, gravitated toward either the Islanders or Rangers -- and with good reason.
With 82 points apiece, the Rangers and Islanders -- first and second place, respectively, in the Metropolitan Division of the NHL's Eastern Conference -- are not just the hottest professional sports teams in New York, they're two of the most feared teams in the National Hockey League.
Products of great free agent acquisitions, shrewd dealings and talented coaching, these two teams are what all New York sports fans wish their other favorite teams looked like.
And, let's be real: While I love the Rangers, no one really gave a damn about hockey until Phil Jackson created more questions than answers and everyone realized we still have way too much time before Odell Beckham Jr. is back on a football field.
No, giving that contract to Melo was not a smart decision from any standpoint nor was signing Chris Johnson for two years at $8 million.
But, the signing of goalie Jaroslav Halak and defensemen Johnny Boychuk and Nick Leddy was definitely the right move by the Islanders and head coach Jack Capuano.
After recently signing his seven-year, $38.5 million contract extension, Leddy said,
We've got a lot of young guys, a lot of good skill, a lot of hard-working guys. When we play to our system, we're a hard team to beat.
Hey, Knicks/Giants/Nets/Jets/Yankees/Mets fans, how much would you bet you'd hear something like that come out of the mouth of anyone on those rosters? They actually have to mean it, though. Otherwise, I'm not paying.
It's been a different path to success for the Rangers, but it ended with quite the same result.
Last season, the Blueshirts began the year under new head coach Alain Vigneault, traded then-captain Ryan Callahan to Tampa Bay halfway through the year to avoid losing him in free agency and then made it to the Stanley Cup Finals.
This past offseason, Rangers brass bought out Brad Richards to clear cap space, made 25-year-old defenseman Ryan McDonagh captain and, despite being without star goalie Henrik Lundqvist since February 2 as a result of a neck injury, the Rangers continue to win.
They're 8-1-2 in Lundqvist's absence and should have him back in goal by the time the playoffs roll around.
Oh, and there's also Rick Nash. Nash's 37 goals make him second-best in the NHL, and he pulls off ridiculousness like this on a nightly basis.
These two teams are legit. Even with some current injuries, they're well-primed to make deep runs in the playoffs.
Welcome to the show, everyone who thought the Knicks are the only ones still playing at the Garden and couldn't even tell you where the Islanders play.
New Yorkers love their sports and deserve good teams to support. The Islanders and Rangers are those teams, now and for the foreseeable future.
It's a shame it took every other professional sports franchise in New York sucking before anyone paid attention to hockey, but with about a month and a half until the playoffs, maybe the timing couldn't be better.