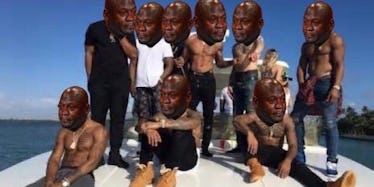 NY Giants Get The Trolling They Deserve After Awful Playoff Game In Green Bay
Twitter
On Sunday night, the New York Giants took on the Green Bay Packers, lost in pretty embarrassing fashion and now all anyone can talk about is a boat.
Let's rewind back to the Sunday before that, which was the Giants' last game of the regular season.
In that game, the Giants — having already clinched their wild card spot — easily defeated the Washington Redskins while resting a handful of starters throughout.
The Monday that followed was the team's off day. Their off day is the same as yours, except it's for millionaire superstars. (Sorry for assuming you are neither a millionaire nor a superstar.)
Presumably feeling pretty good about finishing the season 11-5, while also seeing it as their one opportunity to have a little fun before another underdog Super Bowl run, a handful of the Giants receivers went to Miami and took this picture on a boat:
This did not go over well.
Firstly, they looked kind of ridiculous, which Eli Manning pointed out.
In true New Yorker fashion, they were rocking jeans and boots on a boat.
Secondly, Trey Songz was there because I guess Drake was too busy with Jennifer Lopez or something.
And thirdly, everyone had one question: "What the hell are you doing partying in Miami days before the Giants' first playoff game since 2011?"
Here we are a week later, and that picture has come back to haunt them — big (blue) time:
Plenty of sad Jordan to go around:
And NFL Research pointed this out:
Go ahead and search "Giants boat" right now. I'll wait.
...
Yeah, it's everywhere.
Trey Songz is even weighing in:
OK, all caught up? As a Giants fan, I have some thoughts on this, too.
First off, you're out of your mind if you think them going out on a boat had any effect on their play.
Do you really think this is the first time NFL stars went out and had some fun on a Monday before a big game? Come on. OBJ took trips like this every day after a game, had to play with a lackluster Eli Manning all season and still hauled in 1,367 receiving yards — the third most in the league.
Was it a good idea? Probably not. If you're going to flaunt how chill you are on a boat days before a playoff game, you better back it up with an impressive performance.
But this story — the one that says they lost because they partied on a boat — is completely manufactured by ESPN, Joe Buck, your dad, etc.
If anything, that attention — not the boat party — is what hurt them. It clearly was in their heads as they took to the field shirtless Sunday:
But the Giants didn't lose because the receivers were on a boat Monday.
They lost because they played like crap after the first quarter and the Packers played great in the second half.
Blame Ben McAdoo for trying to act as head coach and offensive coordinator. Blame Beckham and Shephard for dropping passes. Blame Bobby "I Only Make Bad Decisions" Rainey for giving away any sort of chance they had at regaining momentum.
But don't blame a boat.
Citations: Odell Beckham (NFL)