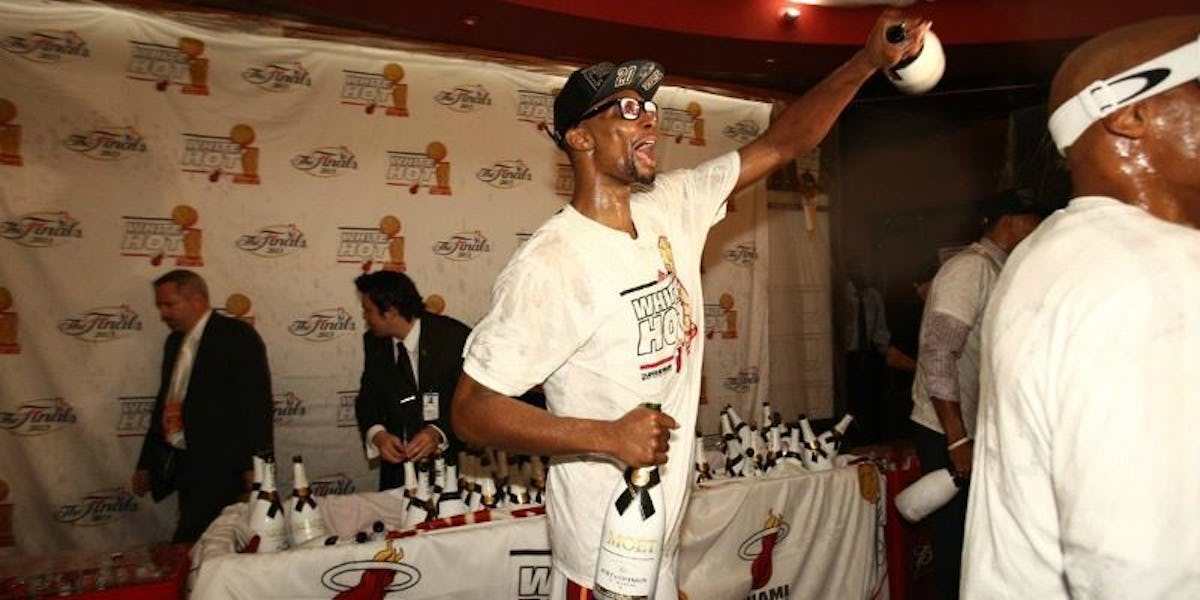 The Official NBA Opening Night Drinking Game Is All You Need On A Tuesday
It's been four months and 11 days since a competitive NBA basketball has been bounced, but the return is finally here.
Tonight, with a slate of three star-studded games, the 2015-16 NBA season officially tips off, and we couldn't be more excited.
And I don't know about you, but when I'm gassed up about sports, there's only one thing that makes watching the game that much more lit: drinking.
Competitive drinking.
See, it's all well and good to sip on a few brews while you ooh and aah over crossovers, corner threes and rim-shaking dunks, but throwing back a mandatory shot of tequila just because Shaq said something indiscernible on "NBA on TNT" is how the real fans do it.
If you think you have what it takes to watch like a champ, check out the official NBA opening night drinking game that's sure to wreck your Wednesday.
1. Every time Thabo Sefolosha's case against the NYPD is mentioned, take a shot of your choice.
2. Whenever the TV cameras get a shot of Kyle Korver's mouthpiece, chug your beer.
3. When Brandon Jennings does some WTF sh*t, good or bad, take a shot of tequila.
4. Every time we get a classic Stan Van Gundy facial expression, do a shot of your choice.
5. Every time Kyle Korver hits a three, take a healthy sip of your drink.
6. Whenever the "NBA on TNT" crew starts laughing hysterically at their own jokes, shotgun two beers.
7. Whenever Joakim Noah claps aggressively despite the fact he didn't do much, take a shot of tequila.
8. If, for whatever reason, Shaq finds himself on the floor, chug your drink until he gets back into his chair.
9. Every time LeBron James acts more surprised than fans over what he just did, chug a beer.
10. Whenever the camera flashes to Riley Curry, take a shot of your choice.
11. Every time LeBron looks like he's thinking of leaving Cleveland, drink for 30 seconds.
12. Every time Shaq says something borderline incoherent, take a shot of Henny.
13. For every Steph Curry three pointer, take a shot of anything but tequila.
14. Whenever the Golden State bench can't believe what Steph Curry just did, shotgun a beer.
15. Every time Anthony Davis and the future of basketball are mentioned in the same breath, take a double shot of your choice.
Don't be a fool, drink with a friend. The quest begins tonight!