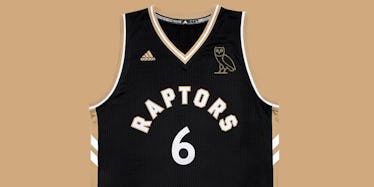 The NBA Approved Ads On Jerseys, Here's Each Team's Perfect Company Match
In April, the NBA Board of Governors approved the selling of ad space on NBA jerseys.
For a three-year period, beginning with the 2017-18 season, teams can feature corporate logos on their jerseys, similar to the sponsorships seen on soccer uniforms.
The difference, however, is the ads won't be as large. The NBA approved 2.5-inch-by-2.5.-inch logos that can be displayed on the shoulders of jerseys.
According to reports, the Philadelphia 76ers just became the first team in the league to officially sell ad space on a jersey. At the beginning of the 2017-18 NBA season, the Sixers will reportedly have the StubHub logo on each player's jersey.
Reports suggest the deal between the Sixers and StubHub is for three years at $5 million per.
Having the 76ers rep StubHub is all well and good, but we came up with a more appropriate sponsor match for Philly, and every other team for that matter.
Here are the companies we think perfectly match each NBA team.
Atlanta Hawks - Panda Express
The perfect place to take your broads in Atlanta.
Boston Celtics - Campbell's Soup
Because every Mass-hole needs a healthy bowl of chowdah.
Brooklyn Nets - Roc Nation Sports
Jay Z can definitely make this happen. Plus, nothing says Brooklyn like RNS.
Charlotte Hornets - Jordan Brand
Let's be real: Would Michael Jordan allow them to wear anything else?
Chicago Bulls - UNO Pizza
Because that deep dish pizza is something serious.
Cleveland Cavaliers - Twitter
After all, Twitter fingers always come in handy when you need to motivate your teammates.
Dallas Mavericks - "Shark Tank"
You know Mark Cuban is always making deals.
Denver Nuggets - Cheetos
If you're in Colorado, you know you're going to have the munchies.
Detroit Pistons - General Motors
Well, it seems like both are making comebacks.
Golden State Warriors - Western Union
They're both money from long distance.
Houston Rockets - NASA
They're from Houston, they're called the Rockets and, against the Warriors, they definitely have a problem.
Indiana Pacers - St. Elmo Steak House
If you've been to Indianapolis, you know this is the only option.
Los Angeles Clippers - State Farm
I mean, have you seen State Farm's commercials?
Los Angeles Lakers - NSA
Because just when you think you aren't being watched...
Memphis Grizzlies - "Empire"
There's never been a team more "Hustle & Flow"-ish than the Grizzlies, and there's never been a TV show more "Hustle & Flow"-ish than "Empire."
Miami Heat - Fat Tuesday
Did you even visit Miami if you didn't Instagram a Fat Tuesday bottle?
Milwaukee Bucks - Miller Lite
Milwaukee is the beer capital of the United States, so this is a no-brainer.
Minnesota Timberwolves - Nickelodeon
They have four players who were born after 1995. They're the real "Rugrats."
New Orleans Pelicans - Popeyes Louisiana Kitchen
Duh.
New York Knicks - Metro Transit Authority
Despite their sh*tty performances, New Yorkers begrudgingly flock to both.
Oklahoma City Thunder - The Weather Channel
The team and the weather are equally unpredictable.
Orlando Magic - Disney
It's the Magic Kingdom, obviously.
Philadelphia 76ers - Sea World
They're always in the tank.
Phoenix Suns - Ray-Ban
If you're in Arizona, you need a fresh pair of sunnies.
Portland Trailblazers - Folgers
All the coffee-drinking, bike-riding hipsters should approve.
Sacramento Kings - Crown Royal
Kings love their crowns.
San Antonio Spurs - AARP
For all the soon-to-be retirees.
Toronto Raptors - OVO
Raptors? Drake? Too easy.
Utah Jazz - Outback Steakhouse
Utah's Aussies will appreciate this.
Washington Wizards - "Harry Potter"
Wizards? Why not?