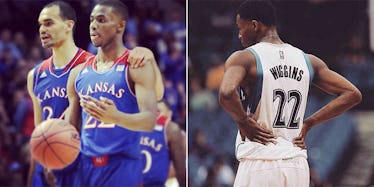 Increasing The NBA's Age Limit Would Instantly Improve College Basketball
Instagram
Welcome, everyone, to the best Thursday of the sports calendar year.
Today, we tip our hats for the start of the NCAA Men's Basketball Championships, where Kentucky will look to make it 40-0 when the final horn sounds on Easter Monday.
Players become legends, coaches earn immortality and everyone seeks that one shining moment.
While it's a great made-for-television event, with four games going on at once Thursday and Friday, going to the early regionals are a must for your sports fan bucket list.
As the automatic bids were filled by conference championships, the NBA commissioner put the age limit argument on the public conversation stove again, and it didn't take long to heat up.
The National Association of Basketball Coaches came out in support of the proposal to move the age minimum to 20 from the existing 19.
The player's union, of course, thinks the limit should be moved down to 18 as it was for years. College basketball would benefit tremendously from this rule change and would add even more excitement to March Madness.
The game would get better because players would get better.
This seems to be the main argument for keeping players in college. Coaches are paid handsomely to win games for their teams, and do so by developing the players they recruit.
Just like working a regular job, the bosses get more out of investments the longer they stay together.
Long-serving coaches begrudgingly work with top recruits at times, knowing they're just going to leave when the season ends for supposed fame and fortune in the NBA.
Honestly, they would probably rather see freshmen have to sit out and work in practice before instituting eligibility for their sophomore year.
For those of us who are a little older and remember the NCAA in the early 90s, we've noticed one main thing when we flip on games: They're not as good as they once were.
No, that's not the rose-colored glasses on the past affecting our vision of today. The game at the NCAA and even NBA level is fundamentally worse. Shooting has gone South in the last 15 years, and it's not because of better defense.
Guys take bad shots and way too many threes without the smooth motion that only comes from time spent at the gym. You can still dominate with sheer athleticism, but the college game is so much about the right decision made in a split-second.
That kind of knowledge only comes from playing more than one year, and does a lot to predict success in the NBA.
Big money TV deals need big money teams.
I'll give you guys a little preview of my bracket. I have Kentucky going all the way to the Final, where they'll face Villanova and the best-looking bench boss in all sports, the always tan and well-dressed, Jay Wright.
Nova has benefitted from a team that has grown together and experienced ups and downs, heading toward this year's 32-2 record and Big East crown. John Calipari just has a stacked lineup that tore through the country without facing much challenge to a 34-0 record.
Such a battle would pit two network carriage deals against each other.
Kentucky's SEC Network runs through the ESPN family of networks. The conference-specific package has become a huge money maker for schools, although it's mostly predicated on football in the fall.
Since the split of the old Big East and the beginning of the 10-team group that spreads west, Fox Sports has aired the games on broadcast and cable.
The basketball focus of the conference could make that exclusive deal very lucrative if Nova pulls the upset, which I'm calling.
Much has been made of what college basketball was 25 years ago and how much stronger the sport was than today. The teams were stronger because players stayed longer and built rivalries and dynasties.
The talent may be similar, but the players who stay a short time don't get to build notoriety. Networks who pay these high fees to air the games would love to build anticipation for rivalries new and old, like when Duke-UNLV was bigger than Duke-UNC.
The NCAA needs student-athletes, not just free agents.
The NCAA has taken a significant amount of criticism for the money they make while not really fulfilling their goal of shaping minds and making better citizens for society.
Usually, the academic criteria is lower than that of the general student population, particularly for the revenue-generating athletes in football and basketball.
If a student enrolls and plans to leave after one year, that's a difficult proposition at any school, particularly a selective one like Duke or Vanderbilt. That's not fair to the kid who wants to study four years, but can't play ball.
This is an interesting moment for the NBA and NCAA. For players who need to make money for their families, or just don't want to play in college, they can get a couple years of pro experience in overseas leagues.
Playing against grown men in a foreign country might do more to improve skills than playing against your age group in college. It also can do more to teach professional acumen and demeanor than being the BMOC (big man on campus).
The NBA Development League could expand its role if it wants to teach players more about the NBA style and provide a more structured analysis of talent development.
Here's a solution that could work well, which I'm surprised no one has mentioned, yet: In MLB and NHL, players can be drafted at 18 and still go to college or juniors in hockey. The team holds players' rights and gets them when they exhaust eligibility or the team finds them ready.
Both sports have tiers of minor leagues that help develop talent.
NBA teams could certainly draft players, let them play in college, internationally or go right to the NBDL.
How much did Nerlens Noel lose when he sat on the bench for the 76ers instead of return to Kentucky last year? Then again, had he stayed this year, Kentucky might be unbeatable.
It's an interesting proposition and will affect both levels of basketball moving forward.