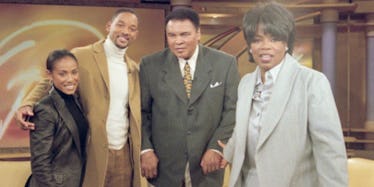 Stars From All Walks Of Life Are Paying Tribute To Muhammad Ali
Twitter/Oprah
If there's one thing about Muhammad Ali's untimely death that proves he was truly one of the greatest figures to walk this Earth, it's the amount of people who have turned up on social media to mourn his loss.
Many people might count themselves lucky if they could have an impact on others in just one field. Ali, however, has clearly taught people across all walks of life.
Since Ali's death was confirmed on Friday, stars from all types of disciplines have paid tribute to the former heavyweight champ. Singers, athletes and even heads of state have shown public adoration for Ali.
And it makes sense, too. It's been over three decades since Muhammad Ali last entered the ring, yet his significance endured because he built a legacy that saw him become a model of perseverance.
His most famous words are motivational, and his fighting spirit, inspirational.
Clearly, despite the fact his impact was made primarily through boxing, Muhammad Ali's importance transcended all sports. Here are some of the countless tributes from the world of sports and beyond proving just that.
Baseball
Soccer
Football
Basketball
R.I.P CHAMP pic.twitter.com/ZJEXfVisS4 — Devin Booker (@DevinBook) June 4, 2016
MMA Stars
Boxing
Entertainment
Politics
Business
You shook up the world ... I will miss you ... #thegreatest https://t.co/vUySGCutu7 pic.twitter.com/1faCwo9QY3 — Gary Vaynerchuk (@garyvee) June 4, 2016
The man himself