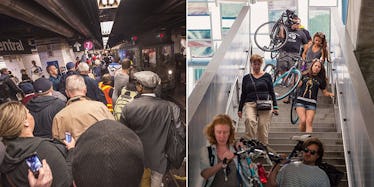 MTA and LA Metro Started Twitter War Ahead Of Mets-Dodgers Playoff Series
Facebook
Next week, the New York Mets and Los Angeles Dodgers will square off in a best-of-five series to kickstart their MLB playoff quests.
For the Dodgers, this October will mark the team's third straight post-season berth. For the Mets, it's the team's first time in the playoffs since 2006.
And even though the series is still about a week away, shots were already fired -- not by the actual teams, but by the subway systems of New York and Los Angeles.
In a Twitter war that appeared to start in the early morning hours of September 30, the Los Angeles Metro sent an opening salvo right at the heart of the MTA.
For starters, @metrolosangeles took a cheeky shot at the 7 train, the MTA's primary way of delivering passengers to the Mets' stadium.
Hey @MTA please tidy up the 7 train, @Dodgers blue is coming to town. #lolmets @Mets — Metro (@metrolosangeles) September 30, 2015
In response, @MTA brought out the hammer by claiming the Mets will sweep the Dodgers in three games.
Don't worry, @MetroLosAngeles – we sweep our subway just like the @Mets will sweep the @Dodgers — MTA (@MTA) September 30, 2015
Then, @metrolosangeles hit right back with that video of a rat trying to bring a slice of pizza back to its lair.
A friendly wager, @MTA? Perhaps your famous New York pizza. #Dodgers #LolMets pic.twitter.com/5g1vpMBuZF — Metro (@metrolosangeles) September 30, 2015
But the MTA knows how many riders it screws over on a daily basis, so it was more than confident in throwing this next blow.
.@metrolosangeles Happy to wager on who wins the series. Care to wager on who gets more fans to the ballpark? — MTA (@MTA) September 30, 2015
Finally, @metrolosangeles ended the battle -- for the time being -- by tweeting another GIF of New Yorkers at their finest.
You got us on the numbers, @MTA. Assuming your riders remember how transit works. pic.twitter.com/rpYc9JjGNZ — Metro (@metrolosangeles) September 30, 2015
Damn, @MTA, tell me you ain't going out like that.
Citations: The MTA AND LA METRO TRADE SHOTS ABOUT DODGERS-METS, IT'S TIME FOR SOME OCTOBER BASEBALL (The Roosevelts)