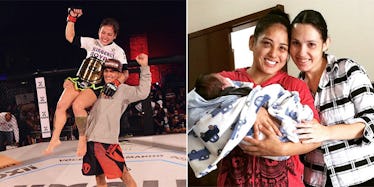 An MMA Fighter Won A Championship Without Realizing She Was Pregnant
Instagram
In a story sure to make your jaw drop, MMA fighter Kinberly Novaes won a title fight back on May 17, despite the fact she was 12 weeks pregnant at the time.
Believe it or not, Novaes had no idea she was three months into her pregnancy, and she only recently discovered she was carrying a child while training for another fight.
The fight was scheduled to take place on August 21, but Novaes, who is now six months pregnant, started to realize something was wrong after finding it difficult to make weight.
After "feeling sick" and dealing with "colic, headaches and cramps," Novaes finally agreed to see a doctor, who informed her she was carrying a baby boy.
Speaking with MMAFighting.com, the Brazilian said,
We did a morphology ultrasound last week and the doctor said I'm 24 weeks pregnant, almost six months, and my baby is healthy and strong. I was worried because I trained hard, fought, cut weight.
Obviously, the most important thing is nothing happened to the baby, but it's a bit horrifying and baffling as to how the 24-year-old had no clue she was pregnant.
Citations: Female MMA Fighter Has Trouble Making Weight for Match, Discovers It's Because She's Six Months Pregnant (Complex)