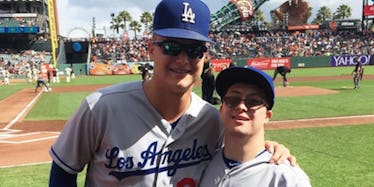 MLB Star Joc Pederson Talking About His Brother Will Make You Appreciate Yours
Instagram
If you follow Joc Pederson on any social media platform, you won't only discover a lot about the 24-year-old Los Angeles Dodgers star, you'll learn something about his family, too.
You'll know, for instance, that he has a 29-year-old brother with down syndrome who is very much a part of his life.
Dig a little deeper and you might discover something else -- a trend, if you will. Whenever Pederson talks about his brother, Champ, he's sure to let everyone know one specific thing: there's a certain joy that comes with being around him.
He said as much to USA Today last season,
He brings so much joy and happiness to our family, not through sports but through other things. He's got a gift of making people happy.
He echoed the same sentiment during a sit-down with his brother and The Players Tribune in May,
I think you make better connections with people than I do, Champ. It's like you bring this joy out of people. There are superstar players who go out of their way just to see you. You know how many people come up to me and want to talk about you?
And now, as he prepares to begin a playoff run with the Dodgers, his mind is on his brother once again. When a conversation with Elite Daily shifted from baseball to family on Thursday, Pederson said,
Champ brings a loving side and puts a smile on your face that puts you in a good mood. He lights the place up when he walks into it.
The love is apparent and strong. And because of their close relationship, Champ has had a major influence on Pederson's baseball career in a number of ways.
First, Champ will always be involved. Since Pederson's rookie year in LA, Champ has been the bat boy, met other pros and signed autographs. He even gave a speech to the team before an elimination game last October.
Champ also has his own apparel, coining the phrase, "Live like a Champ."
Second, though, and perhaps most important, the brothers' relationship has inspired Pederson to live out his days in the big leagues to the fullest.
When asked whether Champ has taught him anything that applies to his playing career, Pederson told Elite Daily,
It's to not take things for granted. He would do anything he could to be able to play just one day, so don't take it for granted and have fun.
There's no question the real fun in baseball begins in October, which brings the unpredictable drama that defines the chase to the World Series.
The Dodgers will be looking for their first championship in 28 years. It's a tall task, but one that Pederson has been unafraid in the past to say his team can meet. As you might expect, during our conversation, he was just as confident and straightforward.
Our coaches have prepared us for this situation all year, so we're ready to come here and take care of business.
That business begins on Friday evening when the Dodgers face the Nationals on FS1.
Citations: Fueled by family, Joc Pederson and his 'ridiculous' talent power Dodgers (USA Today)