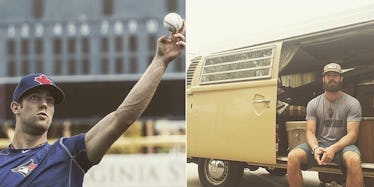 MLB Prospect Who Signed $2 Million Contract Lives In A Van Behind Walmart (Photos)
Today's superstar athlete is synonymous with big bucks and a lavish lifestyle.
But, what if I told you that wasn't the case for one of baseball's brightest prospects? In fact, it's the complete opposite.
Daniel Norris, 21, is the number-one prospect for the Toronto Blue Jays, and although he earned a $2 million signing bonus in 2011 and has an endorsement deal with Nike, he lives in a $10,000 Volkswagen van in a Florida Walmart parking lot.
On average, he throws a 92 mph fastball and is considered by many to be the future face of the Blue Jays, but Norris is a minimalist in every sense of the word.
Not only does he live in an old van, which he repairs himself with duct tape when necessary, he also took an offseason job working 40 hours a week at an outdoor clothing gear store in his native Johnson City, Tennessee.
While his teammates and coaches can't quite fathom why Norris lives such a life -- he cooks on a portable stove stored in the van and makes his own coffee -- it's simply the only way he knows.
A traveler, surfer and environmentalist, this ball player was shaped by working in a small bike shop with his father and grandfather. He's also made it known he wants to have his photography published in the Patagonia catalog.
Meet the Toronto Blue Jays' number-one prospect, 21-year-old Daniel Norris.
Despite receiving a $2 million signing bonus and inking a deal with Nike, Norris lives in his $10,000 Volkswagen Westfalia camper, named Shaggy.
From a young age, Norris worked in his dad's bike shop in Johnson City, Tennessee. It's where he developed his values and work ethic.
His father is his role model and inspiration in life.
The dude known as "Van Man" keeps it about as minimalist as humanly possible. Surfboard, sleeping bag, his only pair of jeans and a handwritten journal comprise the bulk of his belongings.
Not one for the spotlight, Norris prefers to be out on the water with his surfboard made of recycled foam.
It's #vanlife 24/7 for Daniel Norris.
When it's time for business, he's all focus on the mound. Norris posted a minor-league best 11.8 strikeouts per nine innings last season.
Weighing 192 pounds, and with 6 percent body fat, Norris is the 18th-best prospect in all of baseball.
And while Norris has a fastball that can reach 96 mph and a 12-6 curve that leaves hitters frozen, no rookie is beyond the natural rite of passage that is hazing.
The 21-year-old is on track to land the last starting spot in the Blue Jays' 2015 rotation.
But, he's going to do so while maintaining his identity and individuality.
Citations: The Man In The Van (ESPN)