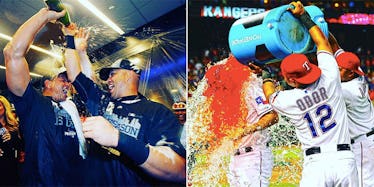 You Can't Script It: 4 Reasons To Watch The MLB Playoffs This October
Instagram
The leaves are falling, and it's definitely football season! But the hype of watching grown men pummel each other shouldn't force us to miss what this season is all about: baseball playoffs.
Baseball has gotten a reputation for being boring and slow-paced, but it's still America's pastime.
As the MLB playoffs loom closer, now is the time to set aside all your reservations about the sport and just enjoy it. Why?
It's slated to be a phenomenal October. Here are the four reasons why:
1. Curses, curses, curses.
If your team hasn't won the World Series in a decade, people would probably describe your team as cursed. No offense to any other team, but you cannot be any more cursed than the Chicago Cubs.
The Cubs haven't won a World Series since 1908. Lifting this curse would probably mean the city of Chicago would go down in flames. But hey, at least Steve Bartman could finally come out of hiding.
The Mets haven't been to the Series since their heartbreaking defeat at the hands of New York's Evil Empire.
Since then, they've always been considered "the other team in New York." But this year, winning would give them back the Big Apple.
The Blue Jays haven't won their division since 1993, which is also their last World Series appearance and title. They've spent years in the basement of the AL East, only to slowly climb up the ranks to become one of the most dominant teams this season.
The Royals also have a name to make for themselves, as they fell just short of a World Series title last season.
Several teams in the playoffs have been subpar for years and are now getting their shot in October. And there is no doubt they'll make it worth their while.
2. Young guns are ready to go.
This season, no shortage of youth will be on display in the playoffs.
Toronto has an impressive outfielder in Kevin Pillar, who has already made amazing plays throughout the season, despite being a second option in centerfield.
Catcher Salvador Perez has been an All-Star and key everyday player for the Royals. The Cubs have youth on their side, with starting pitcher Jake Arrieta, shortstop Starlin Castro and the ever-popular third base phenom, Kris Bryant.
The point is every squad in the playoffs has a crop of young players who have done big things this year. So why won't they do even more in the postseason?
They've shown they can handle the pressure of the big leagues, so their time in the spotlight has arrived. These young stars certainly have the ability to make things happen on the big stage.
3. Look for the stars.
Not only are the young studs impressive, but the MLB playoffs have star power everyone will be talking about.
Jose Bautista and Edwin Encarnacion have been topics of conversation throughout the 2015 season. Andrew McCutchen is a long-time favorite of baseball fans all around.
David Wright, Carl Crawford, Prince Fielder and more have been in the spotlight for years.
The unique thing about this postseason is every playoff team has players known around the league. These teams have the veteran stars, and they are ready to use these players to propel them to victory and popularity.
4. They are the best of the best.
At this point, it's no longer teams overmatching others. These teams are the best of the best through 162 long and grueling games. They've been able to outlast the entire season to make it to this month.
Normally, you see a team or two with several weaknesses that don't even belong in the same company as these playoff teams. This year, you won't find that.
Each team has won its division fair and square, not because of being in a terrible division. The competition is here, and it's as real as it can get. These teams know they're facing the best of the best, and they're bringing their A-game to own October.
Baseball is boring? You clearly haven't been watching this season.
This October, things are going to get crazy, and you'll want to be there for the entire wild ride.