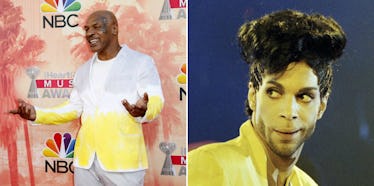 Have You Seen Mike Tyson's Bizarre Tribute To Prince?
REUTERS/Danny Moloshok-REUTERS/Dylan Martinez
Thursday, the world was rocked following news of the death of music icon Prince. The cultural phenomenon was just 57 years old, but he gave us a lifetime of memories and will continue to influence music, fashion and lifestyle for years to come.
In the wake of his passing, tributes from fellow artists, athletes and everyday folks have been coming out of the woodwork. Most have been extremely touching and sentimental.
However, the tribute boxing great Mike Tyson just posted to Twitter can only be described as creepy AF.
I mean, what is going on here? First off, who is "Printhe?" And this photoshopped image of Tyson's face on Prince's body just can't be unseen. I'm sure Tyson's intentions were pure, but this bizarre post is seriously going to give you the willies.
Citations: Mike Tyson (Twitter)