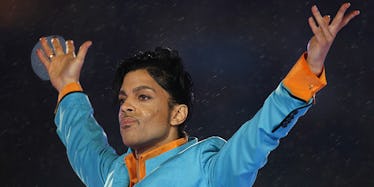 Here's The Epic Video Of Prince Singing 'Purple Rain' In A Downpour At SB 41
REUTERS/Mike Blake
On this Thursday, the day of Prince's untimely passing, it's impossible to not think back to his greatest moments.
For sports in particular, one of the more memorable of those moments is the legendary musician's performance at Super Bowl XLI nine years ago.
There, at Miami's Sun Life Stadium, Prince performed a set in a torrential downpour that complicated matters.
In an extended video of his performance, league officials discussed how they were fearing the worse for Prince. Rain at the Super Bowl had practically been unheard of, so there was reason to expect the unexpected. Then, there's fact that he and his dancers were striding on a slick, narrow surface that resembled his guitar.
Instead, as author Alan Light said in that extended video, he turned the rain into his "dramatic advantage."
Check out the video above for Prince's performance.