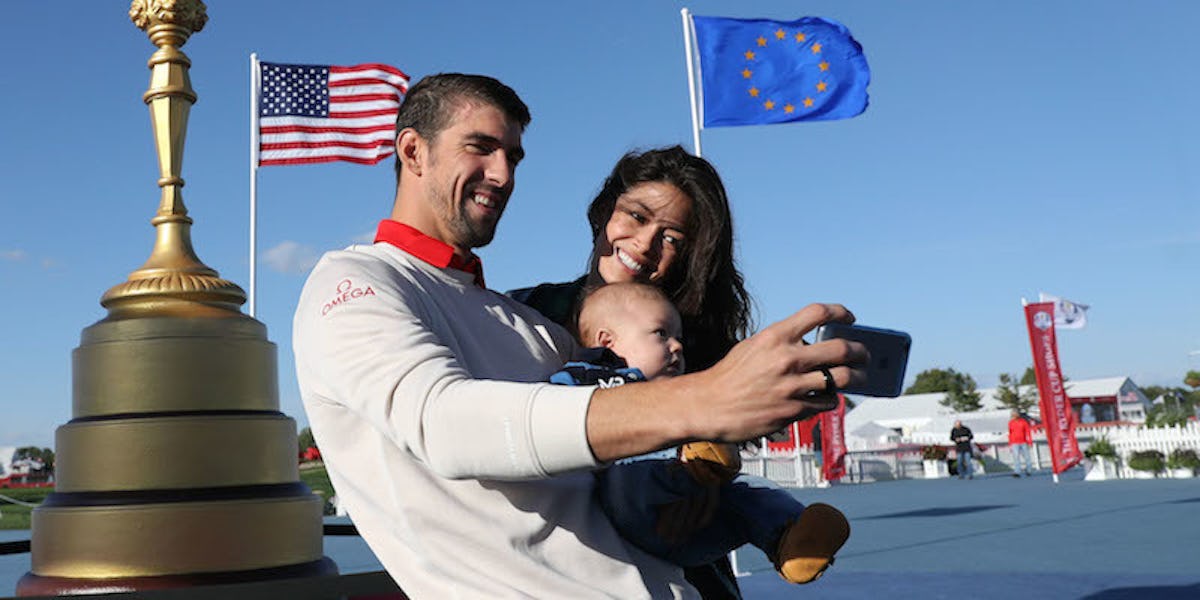 Michael Phelps Discusses Secret Wedding In Super Awkward Facebook Live Video
REUTERS
Michael Phelps was out golfing with his friends – and without a shirt – when he decided it was the perfect time to address the news that he had secretly gotten married back in June.
The news broke this week, when TMZ released the marriage license of Phelps and Nicole Johnson. They had their wedding on June 13 in Maricopa County, Arizona.
But they didn't tell the public about it. Which is, like, fine.
Whatever. I'm not mad.
It's not like I spent 16 years following this man around the world. It's not like I cried when he kissed his baby, Boomer, after he won in Rio. It's not like I remember being SO happy to hear he and Johnson were engaged.
Just keep this very vital information from your loyal fans, Michael. It's fine. I'm not bitter.
Anyway, Phelps took his feelings to his favorite place: Facebook Live.
He was out golfing and shirtless with his friends. So, he hopped on to the platform.
It's a classic Phelps FB Live. Basically, that means he awkwardly talks for so long, everyone else in the video is just like, "Michael, OK, come on."
Yes, Phelps does these weird (hilarious?) Facebook Lives like, all the time.
If you only want to see the part in which he talks about the wedding, check out the edited video from TMZ above.
While he's sitting in the golf cart, he finally addresses his outed secret. He says,
You guys probably already saw the article that was posted.
He gives a fake, smiling grimace. Phelps says,
I've been married for a while. A couple months. I had to keep it secret from y'all! I had to keep it hush-hush from you guys.
But WHY, Michael?
WHY??
Just because. Gotta always have something, guys.
OK. Fine, I guess. You can keep some parts of your life to yourself. But he just looks so awkwardly happy talking about it.
So, we're happy to finally be able to share in Phelps' and Johnson's joy, now that we know. He says,
Now we get the chance to just kick it and hang out.
Phelps responds to someone who says he has a beautiful family. Then, he gives a possible hint about a future addition to the family.
Phelps says,
Baby number two may be coming soon! Who knows, though?
We're so glad to hear the family is thriving, and that Phelps gets to enjoy his life without all that added Olympics pressure.
Congratulations!
Citations: TMZ