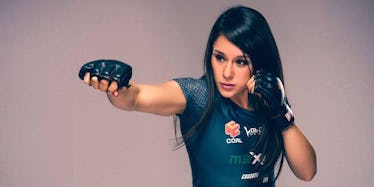 Badass Female MMA Fighter Is Both Undefeated And Ridiculously Hot (Photos)
If you're concerned about the way your face looks, pursuing a professional career in mixed martial arts probably isn't the best idea in the world. However, Alexa Grasso has her priorities in order.
According to the Daily Mail, the 21-year-old Mexican fighter decided to dedicate her life to MMA after attending a match with her uncle in 2012, and he's been coaching her ever since.
The 5'5" fighter weighs in at 115 pounds is currently undefeated with four knockouts under her belt, which is especially impressive when you realize she's also a college student focusing on morphology.
Grasso says she was inspired to take up MMA after witnessing her first fight and realizing just how much skill and athleticism is involved with a sport that frequently comes under criticism from people who view it as barbaric:
I was amazed to see that such beautiful and strong women could punch and kick that way against a larger rival. I saw the beauty of the sport and that women are just as capable as men to fight.
Grasso is sitting at a 6-0 record right now, and while she's currently fighting independently, a move to the UFC isn't out of the question if she's able to maintain her current pace.