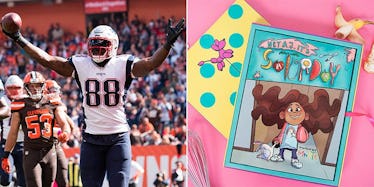 Martellus Bennett Is Too Busy Making Books For Black Girls To See Trump In DC
REUTERS/Twitter
Martellus Bennett has made a bit of noise.
After the New England Patriots won the Super Bowl, Bennett said he would not be joining his teammates to visit the president at the White House, as all champions in the major four sports leagues do after winning a title.
Bennett hasn't been worried about any backlash, either, whether it comes from his teammates or his boss. Instead, the tight end has been focused on something else: creating children's books with characters in them that look like his daughter.
That's the message Bennett sent when he went on a tweeting spree, while news of his plans to "snub" President Trump began to spread.
He talked about not caring what "strangers think" before talking about the books.
The number is valid, too.
According to a study by the University of Wisconsin, out of 3,200 children's books published in 2013, 93 were about black people... i.e, just under 3 percent.
And while that number has improved from the 270 out of 3,400 in 2015, it's clear where Bennett gets his motivation from.
It's also clear what he's doing in response.
The 29-year-old player created The Imagination Agency. According to its website, it's a company "tasked with creating, drawing, writing and [imagining] fantastical adventures for kids all over the world."
He told NESN,
I feel like the things we create live on forever. I don't want my daughter to grow up saying my dad had a great stiff arm. I want her to know that he created, he made things. These are stories that are going to be here forever for her, and whenever she needs me, I'll always be there through story.
In June, Bennett released his first book, "Hey A.J., It's Saturday." The book also has an app, and its main character is based on his 2-year-old daughter, Austin Jett.
On the app, Bennett's own voice narrates the story.
What is The Imagination Agency? @MartysaurusRex for @Forbes #30Under30 pic.twitter.com/yke08yBgHE — TheImaginationAgency (@ImaginationAgcy) January 10, 2017
With Bennett touting his work on social media – including a soon-to-be-released comic book he previewed on Instagram – it certainly seems the Houston native will be creating more stories based on characters like A.J.
He'll be doing so with the intent of sending a message, one he shared with NBC's Today before the Super Bowl:
That's why I'm telling young black kids, 'let your imaginations run wild.' You can do anything that you want to do. You're allowed to go on these adventures, too.
Unlike his politics, that's one statement unlikely to draw any criticism.