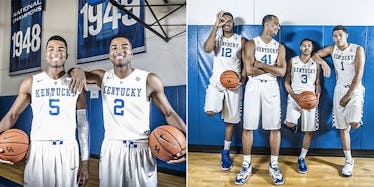 Why Being The March Madness Favorite May Be Kentucky's Kiss Of Death
Instagram
There's no doubt about it: Kentucky is a college basketball powerhouse. In ways, the team seems borderline untouchable.
While the other number-one seeds struggled and fought to win their conference tournaments over the weekend, or in Duke's case, didn't even make the championship game, Kentucky barreled through the competition.
They smoked Arkansas 78-63 on Sunday to maintain perfect play heading into the NCAA Tournament. As fans scramble to fill out their March Madness brackets, UK will certainly see ways to the center spot on many. They're the obvious choice.
With top-caliber players like Karl-Anthony Towns and Willie Cauley-Stein leading the charge, the Wildcats are stacked with talent and poise.
They've had the spotlight on them all season and the media frenzy has yet to get the best of them. That being said, come tournament time, the stakes are greater; regular season records, regardless of how impressive they may be, don't matter quite as much.
While it's tempting to autofill Kentucky all the way through the NCAA championship game, here's why you shouldn't:
1. This isn't the SEC.
Although Kentucky's road to the tourney hasn't been easy, it hasn't been the most difficult, either. The SEC isn't college basketball's premier conference.
The Big Ten, Big 12, ACC and Big East are all better represented this season and in order to remain undefeated, the Wildcats will have to face teams from the stronger conferences.
2. Grit wins games.
While Kentucky has escaped a handful of close contests this season, the majority of their wins don't fall in the nail-biting category. Of course, throttling other teams shouldn't and doesn't work against them.
Yet, how they battle out a win against teams of their same quality simply has yet to be seen. When frustration sinks in, it's easy to become unwound. Other teams live for the opportunity to unravel the best.
3. The bullseye on their back.
Sure, there are technically four number-one seeds in the tournament, but this year, we all know UK is in a league of its own and has been all season.
So, while teams are invariably chomping at the bit to knock the other favorites – Villanova, Wisconsin and Duke — out of the tournament, beating the seemingly unbeatable that is Kentucky carries greater significance and a sweeter reward.
4. Kentucky (fans) vs. the rest of the country
Unless you are a loyal member of Big Blue Nation, you're likely among the collective alliance rooting against them.
As much as sports fans love a Cinderella story, they equally despise historical favorites. Call it jealousy; call it disdain; call it whatever you want. It exists and can especially be felt at neutral sites and away games.
Once Kentucky is outside the comfortable confines of Rupp Arena, the opposing crowds won't seem so favorable. And, if they do make it to Indianapolis, they'll inevitably face an "us vs. the world" environment at Lucas Oil Stadium.
5. Expect the unexpected.
If March Madness teaches us anything, it's to prepare to be surprised. We stare at our brackets, deciding which 12-5 upset(s) to predict and throw out our best guesses as to which underdogs will rise to the occasion.
We don't watch the tournament for the outcomes we can predict; we tune in to see what we never could have imagined. And, this season, that just happens to be Kentucky losing.
So, if you've got Kentucky gliding through your bracket and winning the tournament, you've made a safe, reliable and predictable bet.
The odds are on your side. But, if you ask me, being the favorite is the kiss of death, and this year, Kentucky is on the receiving end.