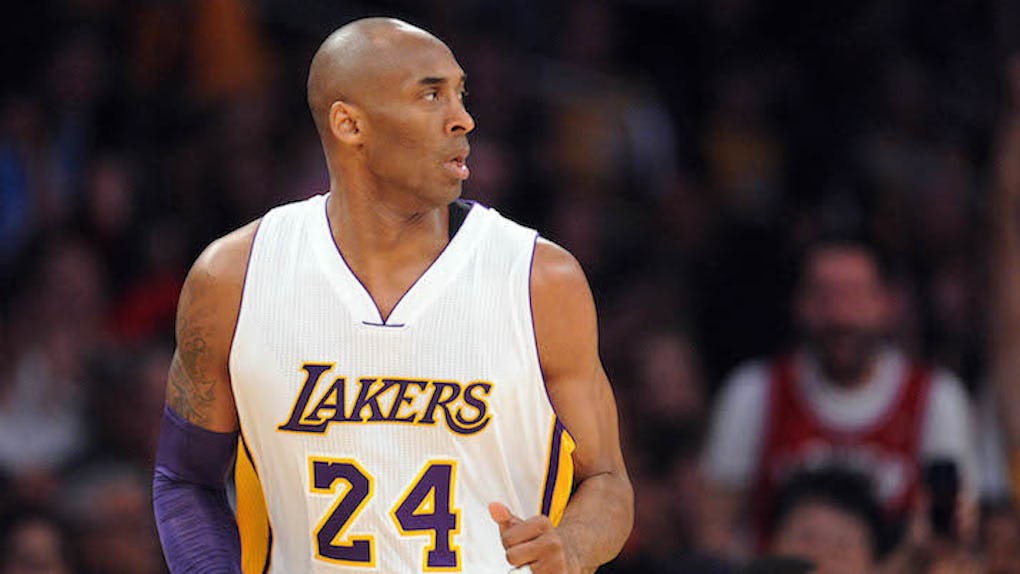 Reuters/Gary A. Vasquez-USA TODAY Sports
Why You Can't Think Of Los Angeles Without Remembering Kobe Bryant
Los Angeles is home to a lot of things: the Hollywood Sign, Dodger Stadium, the Capitol Records Building and countless other landmarks. Many of them highlight the euphoric celebrity haven the entertainment world has positioned millions of people all over the world to believe in. But at the heart of the lights and the cameras is our city's pride and joy: Kobe Bryant and the Los Angeles Lakers.
They go hand in hand. One is not the same without the other. Now, months after the announcement of Bryant's retirement, we have finally reached the final game, the final standing ovation and the final crowd roar. I question what will be left of Los Angeles as a whole after our signature fadeaway jumper plays for the very last time. What will be left after the final wave goodbye and the final walk into the tunnel?
I was born the very same year Kobe was drafted into the NBA. For as long as I have known about the game of basketball and my hometown city itself, I have known Kobe. His drive, his passion and his skill level were all things my dad taught me to revere.
As the firstborn child in my family, I completely cemented myself in the identity of daddy's little girl. I was the son my father had not yet had. Our times together were often spent watching Kobe and the team from the comfort of our family room, and on some special occasions, we were among the roaring crowds of the Staples Center.
At the age of 5, I chose to dress as a Lakers cheerleader for Halloween, and in the years that followed, I proudly donned my number eight jersey as often as I could. My ploy to get boys to talk to me throughout my preteen and even high school years was to spew out all of my knowledge about basketball. This wasn't too hard to keep up; I was following a legend. From the plays to the shots, I knew it all.
The Lakers never left my life. Upon my 16th birthday, I was gifted a car of my very own and promptly put a "Go Lakers" license plate frame on it. During their fight for a three-peat in 2012, I proudly attached a yellow flag to the passenger window. Still to the this day, I am never surprised to get a honk and see someone pull up beside me, roll down the window and yell out, "Go Lakers!"
Throughout these past few months of travel games on the road of Kobe's farewell tour, we've seen countless videos saluting the legend even in the places where he is most hated. Perhaps the most meaningful of them all was the tribute compiled by the Boston Celtics, not only meant to send off Bryant, but to bid farewell to the rivalry that has breathed its final breath.
It was then I truly realized that Kobe doesn't just belong to us Angelinos who bleed purple and gold; he belongs to everyone. While I and many other millions of people love to root for him, millions of others love to root against him. But either way you look at it, there is love. His impending final contest raises the question: What will basketball be like without him?
After being the center of many team rivalries, head-to-head showdowns with Lebron, more rings and All-Star appearances most professional athletes can only dream of, what will be left? Whom will we look to? Whom will we cheer for? Whom will we respectfully boo?
Many people have said, "Kobe was my Jordan." Well, Kobe was my Kobe. He is the greatest basketball legend I have ever known and the most entertaining player to watch and celebrate.
The funny thing is, for every game-winning shot or play Kobe ever made, none of us die-hard fans were ever truly surprised. He was the Black Mamba after all, and with him on our side, victory was possible despite every obstacle in the game. If anyone had it in him, it was Kobe. When he had the entire Staples Center crowd on their feet shouting "MVP," it did nothing short of send chills down my spine.
But as we all know, it hasn't been 20 years of 81-point games, for even a legend as great as Kobe has bad games. Not a dry eye could be found when he heroically walked back onto the court after tearing his Achilles tendon to shoot two free throws. We watched him grow from a rookie to earning five championship rings.
As his heart-rending Nike ad says, you showed us. It's unimaginable to think about my city, with lights shooting from the roof of the Staples Center into the downtown sky, without number 24 on the court. He is everything our home has to offer: a dream, a legend and a sh*tload of success.
Thank you, Kobe, for all you gave to basketball, to me and to Los Angeles. You gave us a superhero we could believe in. Vino.