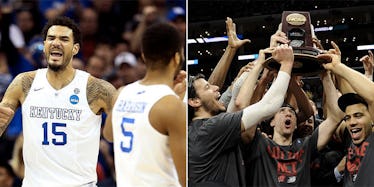 4 Life Lessons We Can All Take Away From This Year's Final Four Teams
Instagram
March Madness is the perfect time of year and the perfect way to describe how crazy our lives can get at any given moment. Although excitement fills the air, the uncertainty of what's next can be the cause of dire anxiety.
As we examine the teams who have made it this far in the field, they remind us of four key ingredients of success in life.
Duke: Stay true to yourself.
Coach K has fostered the attitude of team success for as long as he has been the head of the Duke Men's Basketball program.
Duke plays a unique style of basketball centered on the success of the team as a whole. Although there have been many stars to come through Durham, he has developed an identity for his team that seems to work every year.
This year has been one of the more challenging for Duke. People were unsure Duke was prepared to make it this far, but somehow, their identity found a way to reveal itself at the perfect time.
As the season progressed, Duke was able to grow up. Despite how this season has played out, Coach K and the bunch have the opportunity to raise the trophy once again.
Key Learning Point: No matter what obstacle stands before you, remember your identity to fuel you toward achieving your goal.
Michigan State: Don't listen to naysayers.
No matter the level of talent that the Michigan State Men's Basketball program finds itself with, Tom Izzo and the gang always find themselves in a position to win it all.
Nobody expected them to be here, but on the other hand, nobody is surprised they are. The key thing to learn from Michigan State is that no matter who doubts you, it's about persistence and being confident in those around you.
The guys at Michigan State had a goal, and they have stuck to that throughout this season. They have found a way to be victorious, even when they appeared to be outmatched.
They have had to fight to prove themselves all year, and it will be no surprise to see the Spartans as the kings of this year's season.
Key Learning Point: If you want to get things done, get in the habit of shutting things out and focusing in on what you want to accomplish. Progress is a slower process when you are not focused.
Kentucky: Be resilient.
If the world would have been forced to put their lives on the line for any basketball program this year, it would have trusted its fate in the hands of the University of Kentucky.
It's amazing to note that Kentucky began this season with a 10-man rotation that includes 10 young men who could be starters at any program in the country.
Even in the face of defeat, Kentucky has remained confident they are the best team on the floor, night in and night out. They have not had many close games, but in the ones that were a little too close for comfort, the team never got rattled.
These young men have the opportunity to complete a very special season, as a result of their resiliency. As they face their next obstacle, there aren't many people who expect them not to come out on top.
Key Learning Point:Don't allow the expectations of others to be your downfall. We are all susceptible to defeat. Tough times can arise at any moment. Remain humble and keep your eyes on the prize.
Wisconsin: Stay consistent.
Frank Kaminsky and Sam Dekker have proved themselves to be phenomenal basketball players and vital assets in Wisconsin's Final Four run.
Their road to this point in the season has been one of the more interesting ones, to say the least. The competition for them has been fierce and they have not had the time to relax.
They took a similar path to the Final Four last year, defeating Arizona and setting themselves up to face Kentucky. This year is no different, but now they have the opportunity to redeem themselves from last year's loss.
We never know what opportunities might present themselves, but we can remain confident in the fact that failure is not final. Wisconsin has the opportunity to prove that.
Key Learning Point: In the face of adversity, you are not defeated until you decide to give up. Stay committed to your goal and see it through to its completion.
By the end of this, there can only be one champion, but that's why we love the game and enjoy the spirit of competition. We can all learn from the strengths of each of these programs and utilize them as we progress through life.
By taking advantage of this insight, you can choose to be the champion of your life.
The questions you must answer are: Do I understand my identity? Am I driven by my goals or halted by the opinion of others? In tough times, will I see the value in my goals and remain tenacious? Am I being consistent in the things that will help me to achieve what I set out to do?
As we take the time to evaluate the answers to these questions, we provide ourselves a sturdy platform for success.
The Final Four is a major milestone for any basketball program, but the team that hoists the trophy at the end will share an experience that only few have the opportunity to enjoy.
The question for you remains: Are you ready to do what needs to be done to hoist your trophy?