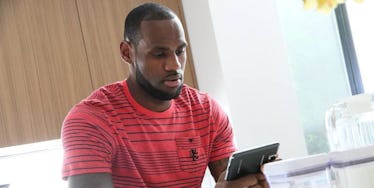 Every Sponsored Character LeBron James Tweets Is Worth About $1,000
It pays to play, especially if you're the world's most talented basketball player.
So when companies come calling to advertise through LeBron James, he has the leverage to ask for the big bucks.
According to opendorse, a company that, according to its official website, "connects marketer with athletes to build endorsement campaigns," James' tweets are worth approximately $1,000 per character to any company that wants the four-time NBA MVP to tweet about its service.
Opendorse CEO Blake Lawrence told ESPN reporter Darren Rovell,
We're basically saying that the value of one LeBron tweet is worth $140,000, and with that, you will reach 23 million people. It would cost you five times more to reach that many people with a TV ad.
The estimated value of James' tweets is more than double the next highest valuation, which is Kevin Durant's $66,553 per tweet.
It's clear when it comes to companies wanting star athletes to sponsor products, the ball is in LeBron's court.
Citations: LeBron James-sponsored tweets valued at $140K, or $1K per character (ESPN)