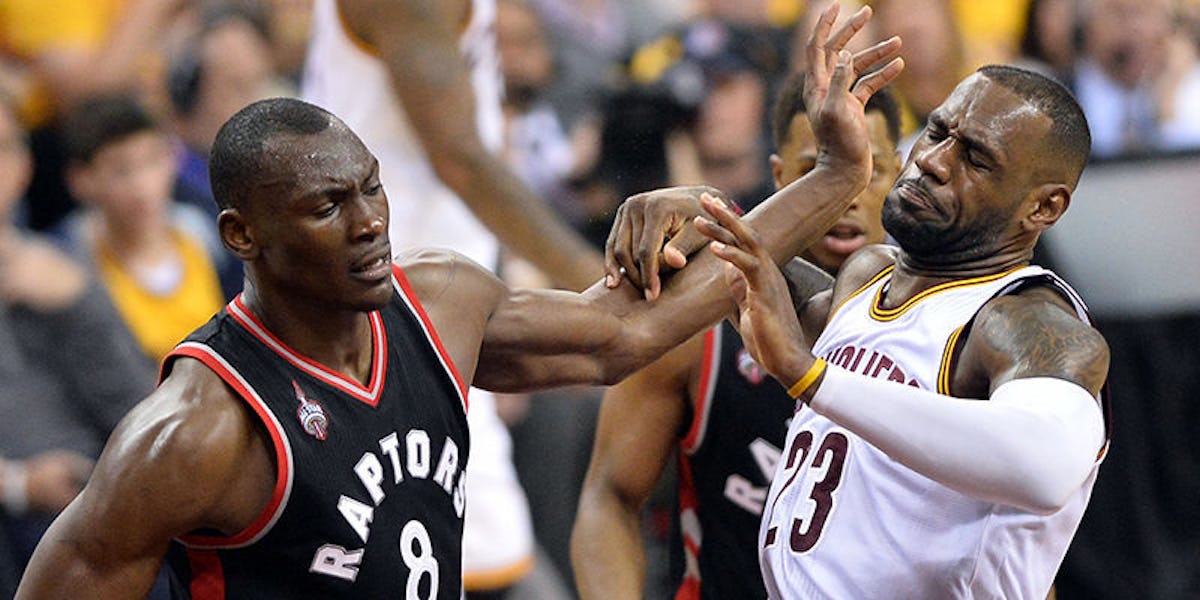 This LeBron James Flop Might Be His Most Embarrassing One Yet
USA Today Sports
LeBron James is known for adding a little bit of theatrics to the scene whenever he gets fouled. In other words, he's a certified flopper.
Sure, he's a great player and all, but no amount of greatness will ever allow an NBA player to slide when he so obviously tries to con the referees.
And the emphasis is definitely on the word "slide" here, because that's exactly what the Cleveland Cavaliers player did after he got hit in the face during Game 3 of the Eastern Conference finals against the Toronto Raptors.
This flop is truly one of LeBron's most embarrassing pieces of work yet.
The acting here is truly impressive. First off, LeBron pushes off Tristan Thompson's back. Then, after he reaches for his face (the most reasonable part of his reaction, to be fair) the 6-foot-8, 250-pound athlete starts stumbling backwards.
Then, LeBron takes a full fall and a little slide across the floor to sell the "foul." The referee ended up handing out a technical foul to the Raptors, but the Internet was not fooled.
The best part about this whole thing? It wasn't even a Raptors player who hit LeBron: It was his own teammate, Tristan Thompson.
Take a look again.
LeBron, your talent truly knows no bounds.
Citations: LeBron James flops after being hit by his own teammate in scuffle with Raptors (FTW)