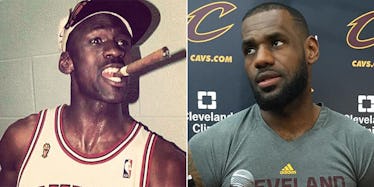 LeBron James Deserves Any And All Comparisons To Michael Jordan
Instagram/Twitter
It's the timeless question everyone's been asking since LeBron entered the league as the self-proclaimed "King."
You can hate him all you want, and I know people have their reasons, but at this point in his career, his achievements are undeniably, well, king-like.
Before anyone who's still living in the Jordan era gets too offended, let me just say this: LeBron is not on Jordan's level of greatness just yet. But, he's certainly knocking on the door. So, where does he rank among the greats?
There's nothing wrong with assessing his numbers alongside all-time greats, but Colin Cowherd's recent tirade about comparing LeBron has to make one think, "Is anyone really comparable to LeBron?"
He's like Franken-Star...he doesn't really compare to anything physically. He's much bigger and stronger than Magic or Michael. He can pass like Magic, he can defend like Michael Jordan, except stronger and bigger. He's an executive off the floor, a coach on it and adds five or six dimensions as a player. He takes 'C+' and makes it 'A-' and 'B+'. We've got an MJ comparison. It's Kobe. And he's not quite MJ. That one's not LeBron. That's Kobe.
You've got to give it to Colin on that one. I mean, c'mon:
LeBron has come up short more times in the Finals than Jordan has, so let that be the basis for bridging the gap between them.
A lot of experts, including Jim Boeheim, mention that what distinguishes LeBron is his one-of-a-kind mix of unparalleled leadership, athleticism and skill sets. Both Colin Cowherd and Boeheim look at LeBron as a combination of Magic and Jordan, who can guard any player on the floor.
This Finals series against the red-hot Golden State Warriors (and fellow Akron-born superstar Steph Curry) will help LeBron build his legacy even more.
Even if he loses the title, the numbers he's accrued during this playoff run are historic. It's not all about the jewelry; LeBron is chasing (and surpassing) Michael and Magic in statistics, too.
LeBron's teammates have commented on his greatness, and ESPN has perpetuated the debate with endless stats.
Brian Windhorst, the guru of all things LeBron, has even joined the debate, reiterating the phenomenal stats LeBron has achieved this post-season.
As exhausted as the debate has become, the stats bureaus continue to delve into Jordan's numbers in search of milestones LeBron is approaching or surpassing.
Lebron's determination in the face of adversity is what puts him in a league of his own. Although he came up short in 2007 in his first Finals performance, he beat a Pistons team in the Eastern Conference Finals with Championship experience. This year, he beat a 60-win Hawks team without Kevin Love and a banged-up Kyrie Irving.
While we're talking about adversity, let's not forget this year is his fifth-straight Finals appearance. He and James Jones are the first two to do this since the 1960s Celtics dynasty.
He did all this after Cleveland fans bitterly shamed him for leaving the Cavaliers, cursing him and burning his jersey.
Michael Jordan spent the better part of his career with the Chicago Bulls before spending his dwindling years with the Wizards. LeBron left Cleveland in his prime years and won with a different team, only to return to Cleveland with aspirations to give them the title they deserve.
The timelines of their careers are enough to separate the two in terms of comparison. Michael wasn't a hometown hero, but he gave Chicago everything he could as quick as he could. LeBron is the hometown hero, and his mission is going to take a little more time than Michael's.
Speaking of heroes, LeBron recently sat down with Rachel Nichols to talk about how competing for Cleveland has changed since he left, and his transformation is certainly a storybook tale. At the end of the interview, LeBron mentioned he would like to play Batman in a movie someday.
We've seen him in a mask before, and masks tend to do crazy things to players. But, mask or not, LeBron, in a sense, already has played the role of Batman in real life.
He's the hero for a city who disowned him despite his hard work. He retreated to Miami and came back to save the city of Cleveland and was welcomed with open arms.
Comparisons will inevitably continue for LeBron. One can only hope that in a couple of years, LeBron will have solidified his own place in history, and possibly be the new model of comparison for great players to come in the future.