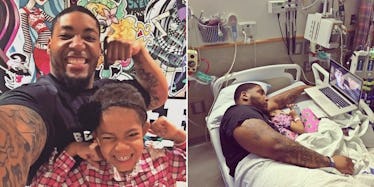 Devon Still Proudly Announces Daughter Leah Has No Active Cancer Left
During a month all about underdogs, it appears the one all sports fans were rooting for won her battle.
Leah Still, daughter of NFL lineman Devon Still, recently received a positive prognosis from her doctors after a scan found no active disease in her body.
To celebrate, Devon posted this picture on Instagram.
The elder Still says he and his daughter are awaiting final MRI scans to confirm what would be a victory in his daughter's inspirational, months-long battle with cancer.
In June, Leah was diagnosed with Stage IV neuroblastoma, a rare form of cancer, and at that point, Still was playing for the Cincinnati Bengals. A couple months after that, when the Bengals were due to make roster cuts during the NFL preseason, the team decided they would cut Still.
But Cincinnati reneged, choosing instead to put Still on the practice squad, so he could still make a salary with health benefits covering the costs of his daughter's treatment.
That decision developed into a movement that rallied around Still and his daughter. Fans across the country made his jersey one of the top-selling pieces of NFL apparel right after the Bengals announced they would donate proceeds from the sales to a local children's hospital.
Now, it appears the Bengals' decision aided in saving young Leah's life, and the funds generated from Still's jersey sales will, hopefully, help save others.
Citations: Leah Still gets optimistic prognosis (ESPN )