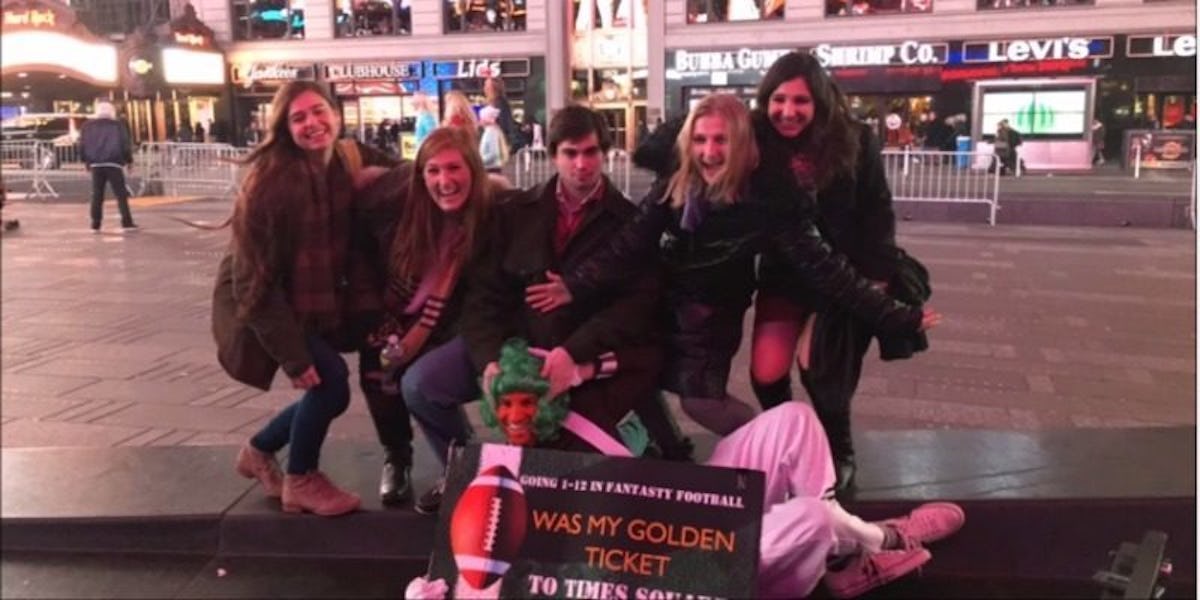 Man Dresses As An Oompa Loompa After Finishing Last In Fantasy League (Video)
YouTube
When it comes to fantasy football, folks go hard.
Just ask Evan Greene of Plainview, New York, who, along with his fellow league members, forced one friend to dress as an Oompa Loompa in Times Square after finishing dead last in the Schwoogin' Fantasy Football league.
Evan reached out to us via email to share this humbling story of embarrassment, as well as a video of what transpired in one of the busiest locations in New York City.
This was the 10th season of the Schwoogin' Fantasy Football League, so Evan and his friends decided to commemorate the milestone by adding a punishment for the team that placed last, otherwise known as "Mr. Irrelevant."
Evan told us, via email,
After debating a few ideas on what the penalty should be, the league unanimously settled on Mr. Irrelevant dressing up in a costume of the league's choice, in Times Square, for one hour.
He continued,
It was a very close three-way race at the bottom of the standings, and in the end, Rabbi's Revenge (managed by Mike) finished 1-12 and earned the honors. The only thing left to decide was what he would wear, and the Oompa Loompa idea edged out an elaborate Seal costume in a narrow vote. The rest is, as they say, history.
Damn. Major props to Mike, who now knows what it feels like be publicly shamed in front of thousands of people.