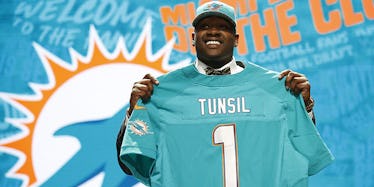 Leaked Video Of NFL Prospect Smoking Weed Costs Him Millions At Draft
Kamil Krzaczynski-USA TODAY Sports
In just a matter of hours, a tweeted video of Laremy Tunsil smoking weed likely cost the draft prospect millions of dollars.
Tunsil, an offensive tackle out of Ole Miss, who was widely projected to be selected in the top five picks of the 2016 NFL Draft, ended up falling to the Miami Dolphins at number 13.
His slip in the draft happened after this video was dubiously posted on Twitter via his own account.
The video was posted shortly before the draft started, and Tunsil promptly deleted his own account (@KingTunsil78), but the damage was already done.
The 21-year-old's draft stock was clearly affected, and since players who get selected higher tend to get bigger contracts, there was a price to pay.
The video may have cost him upward of $10 million.
Insider information supports this theory, too.
Jay Glazer said the Ravens had plans to select Tunsil at number six.
Tunsil only found out about the video in the green room, meaning he had to provide an explanation for it on national television.
All the while, he insisted he got hacked.
There's a reason Sanders immediately assumed Tunsil's stepfather, Lindsey Miller, may have been behind the hacking.
It's because Miller outed Tunsil last June, claiming the player received payments while in college.
The widely publicized episode eventually resulted in Tunsil being suspended for the first seven games of the 2015-16 college football season, a fact that is relevant to this year's draft because of another hacking episode.
Tunsil's Instagram account was seemingly hijacked on draft night as well. This time, pictures of text conversations that corroborate Miller's claims were posted.
Here are the screenshots that were posted on his Instagram.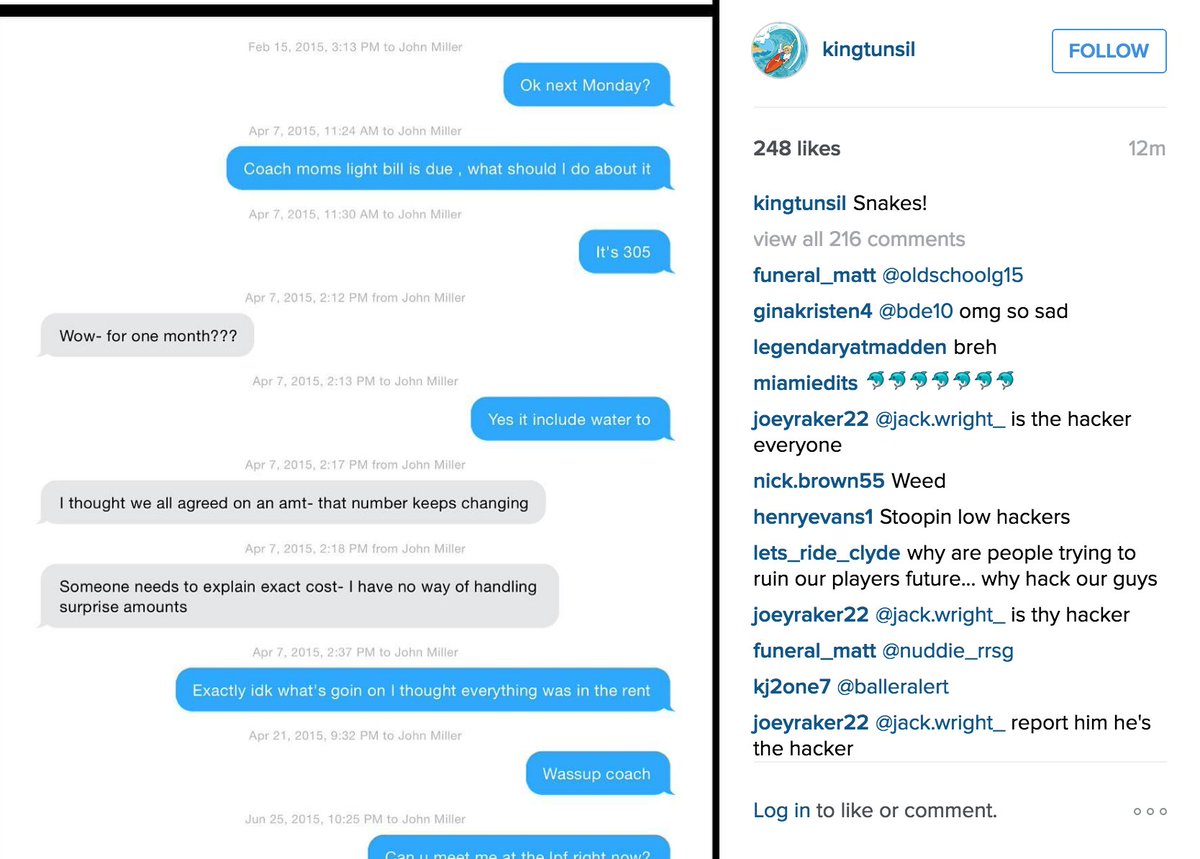 Tunsil was then questioned about the apparent text during his post-draft interview. While getting questioned by the media, Tunsil seemingly confirmed the legitimacy of the messages and admitted to taking money while at Ole Miss.
The admission starts at the 2:40 mark.
As for the Miami Dolphins, the team knew the weed video existed before it was even released on Twitter, according to the Associated Press.
Ultimately, the Dolphins landed a great prospect on the cheap, which may prove to be a huge win for the team. But there's no denying Tunsil lost, and lost big.
Oh, and as if his draft night couldn't have gone any worse.
Citations: Hacked: After bizarre video Tunsil's NFL draft stock drops (Associated Press)