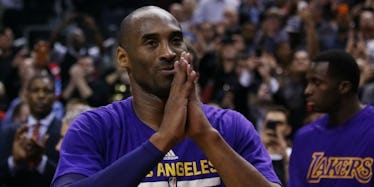 This Is The Women's College Basketball Play That Got Kobe Bryant's Attention
Getty Images
It's hard to imagine Lakers superstar Kobe Bryant thinking about anything other than his final NBA All-Star Game appearance this past weekend, but it appears there was another hoops star he was paying attention to Monday night.
With eight seconds remaining in the game and her team down by one, Minnesota Golden Gophers basketball player Rachel Banham knew what had to be done. The senior guard needed to channel her inner clutch -- her inner Kobe -- and sink a buzzer-beater to win the game.
And, as you can see in the video, she did.
Kobe took note of Banham's unbelievable shooting, and he tweeted his admiration for her game-winning shot.
Clutch @rachelbanham15 not many players can side fade, let alone for a game winner #mambablood — Kobe Bryant (@kobebryant) February 16, 2016
This is actually the second time in less than a week Banham was the subject of Kobe's tweets as he shouted her out on February 9 after she dropped 60 points in a double-overtime win over Northwestern.
Congrats on the 60 @rachelbanham15 From what I've seen I don't think it will be the last time you hit that mark https://t.co/JAUgAiadW3 — Kobe Bryant (@kobebryant) February 9, 2016
Banham saw Kobe's tweet and responded as you might've imagined.
keep it goin!! @rachelbanham15 — Kobe Bryant (@kobebryant) February 9, 2016
Slightly less starstruck this time around, here was the chill response Banham hit Kobe with last night.
Thanks! Just trying to be like you! #mambamentality https://t.co/Bn7n8dp2K0 — rachel banham (@rachelbanham15) February 16, 2016
Evidently, real recognizes real.
Citations: Kobe Bryant again tweets shout-out to Gophers' Rachel Banham (Sportress Of Blogitude)