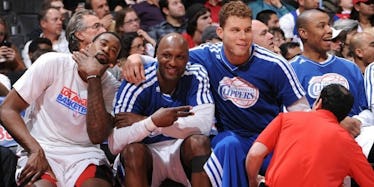 Kobe Bryant Reportedly Left A Lakers Game To Be At Lamar Odom's Bedside
Yesterday, former NBA star Lamar Odom was rushed to a hospital after he was discovered unconscious in a Nevada brothel. Immediately after the news broke, NBA stars came out of the woodwork to tweet prayers and well wishes to Odom.
One former Lakers teammate, though, did far more than that.
Kobe Bryant left the Lakers' preseason game on Tuesday with an apparent leg injury, but once he got word of what happened to Odom, he reportedly didn't hesitate to go be with his friend in the hospital.
Kobe Bryant left the arena, Lakers cited personal reasons — Mark Medina (@MarkG_Medina) October 14, 2015
Lamar and Kobe won two championships as LA teammates, and the pair clearly struck a bond during their time together.
Crazy night. I'm told Lakers had 2 hour delay on their flight amid Lamar Odom's situation. Kobe and Mitch among those who visited him — Mark Medina (@MarkG_Medina) October 14, 2015
Our thoughts are with Lamar Odom and his family.
Citations: Kobe Bryant Left Lakers' Preseason Game to Visit Lamar Odom in the Hospital (Complex)