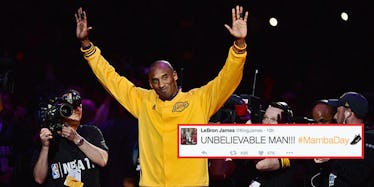 Athletes Around The Country Are Honoring Kobe Bryant After His Last Game
Robert Hanashiro-USA TODAY Sports
Wednesday night belonged to Kobe Bryant.
In his last game ever, the 37-year-old turned a meaningless game between two non-playoff teams into must-see TV.
What started out as a poor performance from the Black Mamba -- he began the game with five straight missed shots -- turned into literally the greatest farewell performance we've seen from an NBA player.
No Hall of Fame player had ever scored more than 30 in his last game. Kobe scored 60 in the most Kobe way possible, with a "Teammates? What teammates!?" performance that saw him take 50 shots in 42 minutes of play.
It was fantastic.
And while fans around the country saluted a player they grew up watching, we were reminded, too, many of the athletes whom Kobe regards as peers were also kids when the Lakers legend began his career.
LeBron James couldn't contain his excitement.
Nor could any other big-name NBA stars.
Even NFL stars got in on the action.
And some of baseball's greatest stars made sure to not miss out.
Legends from all over paid their respects.
What a privilege! I saw Kobe play. #ThankYouKobe — Kaka (@KAKA) April 14, 2016
Happy to call you my friend... Thanks for the memories bro!!! It's been amazing to watch the drive and passion you have for the game!! Sport gonna miss ya man... #mambaday
Even Jay Z had to hop on Twitter for the first time this year and join the athletes.
But nothing beats making Kanye actually smile.