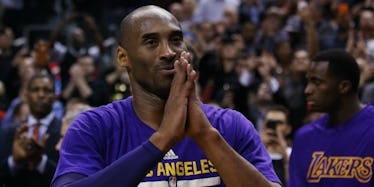 Kobe Bryant Says You Need To Do This During Sex To Conceive A Baby Boy
Getty Images
After 37 years on this planet and nearly two decades in the NBA, Kobe Bryant is full of sage advice.
One long-time Lakers reporter, Eric Pincus, was the recipient of some Black Mamba knowledge a few years ago when he had a conversation with Kobe about childbirth.
Pincus, who was already a father to two daughters, shared he and his wife were trying to have another kid. In response, Kobe told Pincus how he could ensure he'd have his first son. The LA Times reporter recalls,
There was one thing, years ago, I had two girls and we were talking about how we were going to try to have a third. And, he told me that to have a boy, I need to keep my socks on with my wife… that was his advice. I did not listen, and I have a third girl.
Well, there you go, folks. Always listen to Kobe Bryant. And if you're trying to conceive a baby boy, wear your socks, men!
Citations: We Asked 18 Journalists for Their Favorite Kobe Bryant Stories (Complex)