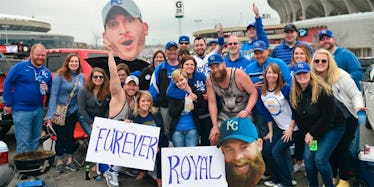 Kansas City Used To Be A Seller, Now It's A Royal Destination
Facebook/Kansas City Royals
Let's take a trip back.
Six weeks into Kansas City's seventh-straight losing season in 2010, general manager Dayton Moore fired manager Trey Hillman to bring a new voice into the dugout.
Moore told MLB.com in 2010:
"Our goal by 2013, 2014 is to have the majority of our 25-man roster be homegrown players. That's what we're shooting for, that's been the long-term plan all along ... It took the Yankees seven years. They've committed to it in '89, and finally in '96 they won with homegrown guys. I'm not talking about getting to .500, I'm talking about winning the World Series when I say eight to 10 years."
Kansas City won 80 games in a season just twice between 1993 and 2012. The Yankees did that 18 times during the same period.
David Cone won the Cy Young award with the Royals in 1994 Zach Greinke earned the '09 Cy Young with the Royals, but left town two years later.
Carlos Beltrán famously captured the Rookie of the Year title in 1999,but he even more famously captured $119 million contract with the Metsin 2005.
Throughout the past 25 years, whether it was losing players or losing games, Kansas City was ultimately unable able to turn the organization around.
So, why are they winning now? Enter Ned Yost.
The Royals have seen their win total increase each season since he took the helm, and their recent success can definitely be attributed to him.
This season, Kansas City ranks within the top-10 of baseball in hits, RBI, on base percentage, slugging percentage, steals and runs scored. They've also struck out the fewest among all major league teams.
The second half of the season looks equally bright.
In 2013, the Royals ran off a 43-27 record in the final stretch, and in 2014 they went 41-27 to end the season.
If Kansas City wins at least 38 games in the second half of this year, they will clinch their first 90-win season since 1989 and likely the AL Central crown.
Toby Cook, Kansas City's vice president and spokesman, told The Washington Post in July:
"People kind of said, 'I remember the Royals.' That was a fun thing last year. It just really took off for us."
Kansas City has an older team on average than it did five years ago.
The year Ned Yost took over, the average Royals hitter was 25.8 years old, and the average pitcher was 26.4. Today, the average hitter is 29.0, and their average pitcher is 30.7.
The older players Moore brought in this season have paid immediate dividends on the mound (Chris Young, 36; Ryan Madson, 34) and in the lineup (Alex Rios, 34; Kendrys Morales, 32).
Perhaps, Yost's wisdom as a catcher is also rubbing off on his players.
The Northern California native spent six seasons in the big leagues as a backup catcher for the Brewers, Rangers and Expos during the early- to mid-80s.
In fact, he was on the 1982 Brewers team that lost Game 7 of the World Series to the St. Louis Cardinals, a feeling he can share with his team from last season.
Royals' first base coach, Rusty Kuntz, said earlier this year:
"When these guys come after you, that's a compliment. Because you're good. You're good now."
As Kansas City rediscovers postseason royalty, it's safe to say they are done with losing and are prepared to cap a season in style.