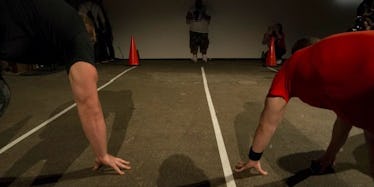 I Literally Took A Walk In JJ Watt's Shoes And Lived To Tell The Tale
Sepp Dasbach
Thursday morning, other reporters and I lined up outside of a warehouse in Manhattan's Chelsea neighborhood, not quite sure what to expect.
The day before, I received a Reebok gear package and a memo about hunting greatness with NFL and Houston Texans superstar JJ Watt. OK, free gear is always awesome, but what the hell was I really in for?
In the last 18 months, I've put my body through NFL combine workouts and a freezing chamber, all in the interest of getting a good story. But, before Thursday, I can honestly say I've never hunted greatness.
What does that even mean?
After spending Thursday morning with Reebok and JJ Watt, I at least have an idea of what it means to be so dedicated to something you literally pour your entire essence into it.
I'm talking about JJ Watt's new signature sneaker, the JJ I, which is the main reason we were at that warehouse.
However, from the moment JJ started talking about his new shoe, from inception to final product, you could feel this was about more than just an athlete promoting a signature sneaker.
First off, I give you the JJ I, Watt's new Reebok signature training sneakers.
As I sat there listening to how hands-on JJ Watt was in the entire sneaker creation process, I got a real sense of who this 290-pound force of nature really is.
The Texans defensive end is a three-time AP Defensive Player of the Year, four-time Pro Bowler and has 74.5 sacks so far in his career.
However, while he spoke, this massive individual actually appeared nervous.
Considering he performs in front of millions of eyeballs every Sunday in the fall and winter, I don't think it had anything to do with the public speaking.
I think JJ is so invested in and proud of his new sneaker he wholeheartedly cares about how people are going to receive the Reebok kicks.
After he presented his new shoe, I asked JJ what it means to him to finally have a signature sneaker. He said,
It's incredible, to think of how far I've come, and for a defensive lineman to be able to get his own shoe? I think that's always something I've tried to do... break outside the box. My biggest thing is to do it with the performance aspect. To create a shoe that not only looks good, but performs great. Anyone can create a shoe that looks good. I wanted to create something that really performs well, and people would say, 'Wow, I really need to have this shoe.'
After the shoe was introduced, it was time to put it to the test. Every member of the media was given a pair of JJ's and then shown a circuit course, including box jumps, sprints, tire tosses and sled drills.
It was go-time.
First up, I tried my hand -- feet? -- at box jumps. Sure, even with JJ's shoes, I'd never be able to break his record leap of 61 inches, but I gave it my all nonetheless.
I was breathing hard, clearly out of shape, but my feet felt as light as air. I was already a believer in the JJ's, but my Watt workout was just getting started.
After box jumps, I was instructed to do a variety of stop-and-start sprints. For some reason, my group only had two participants, so JJ actually decided to line up next to me and challenge yours truly to a race.
Bet you'll never guess who won?
After pushing a 300-pound tire around, it was time for the last, and arguably hardest, skill challenge: Driving a weighted sled.
Almost every part of my body was on fire after driving that sled back and forth on the warehouse floor, but my feet really felt great. No bullshit, I swear.
After we finished the circuit workout, and I caught my breath and stopped sweating, I got a chance to chat with JJ one last time about the release of his new sneaker.
I asked him what it meant to create something that can live on well after he plays his final down and hangs up his cleats, to which he replied,
That's why it was so important to do it right. That's why we spent so much time getting it right. Because you're right, this is going to last far beyond my playing career. I wanted to make sure we created something I was proud of for my whole life. Maybe some day, my kids [will wear] JJ's. I think that would be incredible.
I'll never play in the NFL, but after spending the morning with JJ Watt, I know it's about striving for your own personal greatness, no matter what profession you practice.
It's also about having the right shoes to go hunting in.