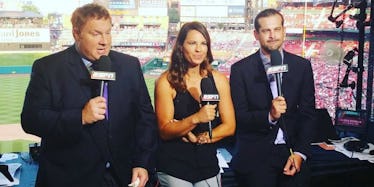 ESPN's New Female Analyst Shows The Good And Bad Sides Of MLB In 2016
Last weekend on Sunday Night Baseball, the New York Mets and Kansas City Royals kicked off the 2016 MLB season just how they closed out the 2015 one.
The Mets' Matt Harvey pitched well, but he just couldn't get the run support he needed while trying to keep Kansas City at bay. In the end, the Royals gutted out a 4-3 win.
However, what was different about this year's broadcast was the addition of Jessica Mendoza to the ESPN booth. Yes, Mendoza joined ESPN's broadcast team for several MLB games during the 2015 season, but Sunday night was Mendoza's inaugural broadcast as a permanent member of the Sunday Night Baseball crew.
Mendoza knew she was set to become a permanent Sunday Night Baseball fixture back in January, when she was reportedly informed she'd be replacing Curt Schilling on the weekly program.
And if the first telecast of the season -- which featured last year's World Series teams and was greatly hyped in the weeks and days leading up to the first pitch -- is any indication, ESPN found itself a broadcasting All-Star of the highest caliber.
Jessica Mendoza, who played softball at Stanford University and won two medals with the US Olympic team, wasn't just informative and measured in her analysis, she was nuanced and polished.
The 35-year-old let the game breathe, but she didn't hold back. She engaged in typical booth banter with partners Aaron Boone, a 12-year MLB veteran, and Dan Shulman, a 15-year ESPN broadcasting veteran, and was often the most dominant on-air voice.
Mendoza echoed the sentiments of all Mets fans when she tactfully called out Yoenis Céspedes for making a costly error in the first inning of the game. And, she was spot on when she talked about slugger Lucas Duda's shortcomings in clutch situations, as well as how he'll need to turn it up this season if the Mets are going to try and repeat as National League Champions.
It only got better from there.
Mendoza appears to be a really talented broadcaster for two main reasons: She knows the game of baseball and she knows how to articulate that knowledge. Plain and simple.
And, at a time when baseball is fighting to attract younger fans, she's the breath of fresh air the sport so desperately needs.
It should come as little surprise, though, for every compliment Mendoza received, she was also bashed seemingly just for being a woman in what has always been a man's world.
The above tweets are just a snapshot of the national pulse following Sunday's game, at least as far as Twitter is concerned. You can search "Jessica Mendoza" on Twitter or Facebook, and you'll quickly see ESPN's new analyst is one of the most polarizing non-athlete sports figures in recent memory.
There appears to be little or no indifference toward the former outfielder.
With all of this said, you're by no means wrong if you think Jessica Mendoza is a lousy broadcaster. I would urge everyone to look at a slightly larger sample size than one game before making a blanket statement of disgust and disapproval, but everyone who watched or listened to the game is entitled to an opinion.
I just want to make sure people dislike Jessica Mendoza for the right reasons.
Anyone who is placed in the media spotlight by a network like ESPN is subject to any and all criticism concerning knowledge, delivery and overall broadcasting skill. But those who are comparing Jessica Mendoza to Tim McCarver or are saying Mendoza doesn't know anything about baseball because she played softball appear close-minded and delusional.
Last October, Mike Bell, a sports radio host with Atlanta's CBS Sports affiliate, tweeted a string of unbelievably sexist remarks after Mendoza became the first female analyst to work a MLB playoff game.
Bell's comments are abhorrent and, although he was suspended for his remarks, he remains on the air with Atlanta's CBS Sports affiliate.
Everyone has an opinion, and in the age of Twitter, everyone is going to express that opinion.
No matter how you feel about her broadcasting skills, you have to acknowledge Jessica Mendoza isn't a media stunt or an experiment. She's a great, young analyst, who may not be perfect, but is far from the trainwreck some on Twitter are making her out to be.
Let's see what Mendoza does next Sunday and the Sunday after that. Let's keep having this conversation. Hopefully, we'll all be better off for listening and for watching, and for not being so quick to judge and dismiss.