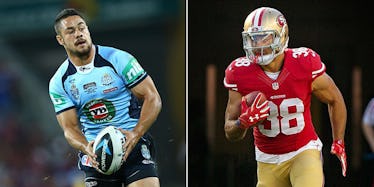 Jarryd Hayne Shows Exactly Why Rugby Players Can Succeed In The NFL
Tumblr
The name Jarryd Hayne is legendary in Australia, where the 27-year-old rugby star is one of the best players in the country.
But then again, Hayne isn't just one of the best.
He was named one of the most valuable players in the entire National Rugby League just last year. Hayne is one of the greatest players of his time, and he's in the middle of his prime.
That's why his decision to leave his home and play American football as a member of the San Francisco 49ers is somewhat of a shock to his biggest fans and people who don't know anything about him.
It's been a long-time debate as to whether or not rugby skills can translate to the NFL, and up to now, we've seen nothing special.
That is, until Jarryd Hayne, who, in just one training camp and two preseason games, is proving he belongs.
Jarryd Hayne isn't just any rugby player from Australia.
He's a world-class athlete who won the Dally M Medal -- awarded to the best NRL player -- in 2009 and 2014.
He is now chasing his new dream as a running back and return specialist for the San Francisco 49ers.
And he's already proving he has the potential to be a star in the NFL one day.
In response to leaving rugby behind, Hayne said, "You have dreams, so do I. You have fears, so do I. You have doubts, so do I. You have excuses, that's where we different. #38"
Teammate and fellow running back Reggie Bush said, "He has all the talents and athleticism to be able to play in this league and to be able to play at a high level in this league. I think making the team is actually the least of his worries."
But they've been friends since before they were teammates.
Before he even got there, Jarryd made sure he got familiar with his teammates -- especially quarterback Colin Kaepernick -- and worked out with them.
He's truly a part of the team now and even hangs out with Kaepernick and plays table tennis during downtime.
There were some worries about how his skills would cross over to the NFL. Head coach Jim Tomsula said, "When you watch what we're doing here, he's still playing rugby."
But after just one preseason game, he silenced all of the doubters, including his coach, and went off against the Texans with a 53-yard run and 33-yard kick return.
Jarryd Hayne will have the biggest initial impact in the return game -- as he proved with some amazing punt returns in another preseason game against the Cowboys.
Even after his little bit of success, Jarryd remains humble, saying, "I'm just trying my best every week."
Fans everywhere couldn't be more excited about his potential. One NFC exec reported, "[He] has some run skill, good burst, strong runner with vision but runs tall."
"Running tall" in the NFL might be a concern, but he's more than aware of any defenders trying take his head off.
Don't be surprised by the @jarrydhayne_1 PRs. They have no fair catch or blockers in Rugby League. these are are easy for him #rugbyleague — jack bechta (@jackbechta) August 24, 2015
Still, Jarryd has been training tirelessly to get better every single day.
But, nobody's more excited about this opportunity more than Jarryd Hayne right now. He said, "My main man upstairs been with me the whole time! Without god I can do much. With God I can do ANYTHING."
He's proving rugby players are exactly the type of athletes the NFL needs.