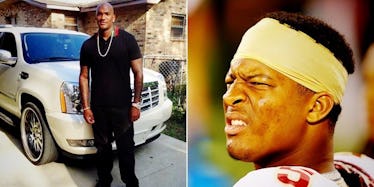 4 Things Jameis Winston Can Do To Avoid Being The Next JaMarcus Russell
Twitter/Getty Images
This weekend, the 2015 NFL Scouting Combine will begin in Indianapolis. Players in every position will be put through the ringer, physically and mentally, in front of scouts from every team.
They'll run timed events, bench press more weight than the average person could, run various position drills and do so in front of many cameras as the event runs on the NFL Network.
You thought the dogs at the Westminster Kennel Club got thoroughly examined... Well, none of them gave interviews to team psychologists after a long day of physical activities.
Normally, the action doesn't heat up until the weekdays, when non-skill players battle for draft position. This year, two Heisman winners will go through the ringer beginning on Saturday.
Both Oregon's Marcus Mariota and Florida State's Jameis Winston will throw at the Combine, which is rare for elite quarterbacks.
If Winston wants to go first overall -- many mock drafters and I have him -- he needs to take advantage of these next two months to overhaul his reputation and avoid the pitfalls that befell others, like 2007's number one pick, JaMarcus Russell.
1. Come into the Combine in game shape
There's one glaring difference between the two quarterbacks that everyone can note: physical size. Both QBs fit the tall requirement for elite players.
Winston's weight hasn't been officially documented, but he certainly plays nowhere near the 265 pounds Russell carried into the pros. Both were multi-star athletes, but Winston cuts a striking figure in a baseball jersey when he toes the rubber for the 'Noles.
In that vein, concerns about his weight and fitness rose when pictures appeared over the weekend showing a heftier Winston practicing shirtless for his upcoming performances.
Subsequent stories noted this picture wasn't recent, and Winston's form causes him to force out his stomach.
A more recent photo, posted by quarterback coach, George Whitfield Jr, suggests he's cut that weight and might tip the scales under 215 at the Combine.
Winston needs to be able to show his full arsenal of moves through various workouts. The man who defeated him at the Rose Bowl is highly touted as athletically gifted and able to play in space.
In the many FSU games I saw him in, where he accrued zero regular season losses in two years, Winston's strength came in while running a hurry-up offense in pressure situations. That technique is quite in style now in the NFL.
While Russell marveled with his size and looked like a howitzer in cleats, Winston needs to have arm strength complement his mobility and match Mariota for playmaking ability with his feet.
Peter King noted Winston played most of the season on a bad ankle, which might explain his slow starts.
If that ankle is healed, his velocity should eclipse Mariota's and impress scouts with his more complete physical game.
2. Own your mistakes
The biggest question surrounding Jameis Winston is whether or not he can evolve from his collegiate mistakes.
He made a series of poor decisions at Florida State, which earned him derision and even a suspension for the Clemson game.
While these transgressions didn't hurt his team or their perfect regular season, he has scared some teams with these repeated incidents.
While Russell got a six-year, $68 million rookie deal with $31 million guaranteed, the new CBA has limited the amount rookies can get in their first deals.
However, the trust and responsibility a franchise places on a number-one overall pick, especially at quarterback, goes beyond the money.
Unlike Russell, Winston has a very outgoing personality and can own a room. He has a childlike goofiness that can certainly spill over into some of his transgressions.
However, he grew up with the cautionary tales of Russell, Ryan Leaf and other quarterbacks who burned out from lack of emotional maturity.
He should seek out fellow Heisman winner Cam Newton, who went number one overall in 2011 after he won the national title at Auburn.
Both have similar personality traits, and Newton can offer some wisdom in his transition to the face of the Carolina Panthers.
You might want to avoid those Play 60 ads, though, Jameis.
3. Embrace the competition
Jameis Winston and Marcus Mariota weighed in today. Same height, just nine pounds the difference pic.twitter.com/Y6kKhhR0n6
— NFL on ESPN (@ESPNNFL) February 19, 2015
The 2007 draft brought excellent players into the NFL, like Marshawn Lynch, Calvin Johnson, Adrian Peterson and others. What it lacked was any notable quarterback talent aside from JaMarcus Russell.
As I watched the draft at the King of Prussia Mall with my dad and sister, we anticipated the calling of Notre Dame's Brady Quinn, who shined for the Irish. We waited a long time, to the point where the cameras on him became like a snuff film.
Even my sister, who knows nothing about football and cares even less, expressed how sorry she felt for him.
Quinn went 22nd to Cleveland, where he failed to develop. Sound familiar?
This year's submission of two Heisman winners at quarterback -- the first in the NFL draft's storied history — provides a different scenario.
Winston isn't the surefire number one yet, and will have time to solidify his case. He will be monitoring his rival Mariota closely. Look for reports of the two spending time together during the Combine and on other interviews.
A fiercely competitive guy like Winston will use that contest as motivation to improve his weaknesses and become the clear-cut favorite. That should keep him from falling in similar bad practices that befell Russell before and after the draft.
4. Avoid the purple drank
Russell had a substance abuse issue that only came to light when he left the NFL. In 2010, he was charged with possession of codeine without a prescription. He later admitted he also tested positive for the drug after he was drafted in 2007.
When the Raiders released him, despite the lack of an indictment, he couldn't get back into the league.
Fair or not, JaMarcus Russell has become the new measure for abject failure in the NFL.
Despite the league's constantly changing focuses, and the fact that QBs often don't have enough time to transition their games from college to the pros, the number one overall pick is a heavy mantle.
Not everyone pans out like Peyton Manning or John Elway. If he can appreciate the gravitas of the position, keep physically fit and adapt to the rigors of the pro game, Jameis Winston has the physical tools and general field expertise to turn around a franchise in the NFL.