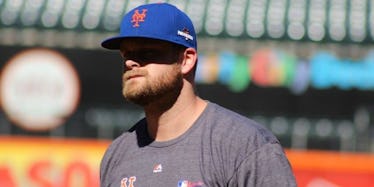 Mets Players Made An Instagram Just To Harass The Sh*t Out Of A Teammate
The New York Mets are just days away from making their first postseason appearance since 2006. And while you might expect the atmosphere inside the locker room to be tense, it appears to be anything but.
Apparently, there's an Instagram account run by Mets players Curtis Granderson, John Mayberry, Jr. and Danny Muno with the sole intention of clowning on their teammate, Lucas Duda.
The account, @wefollowlucasduda, is a collection of videos and photos featuring Duda in all kinds of situations from eating lunch to using the bathroom.
This is Lucas Duda like you've never seen him before.
The account appears to have launched about three months ago, around the same time the Mets started to mash.
At first, the photos and captions were complimentary of Mets slugger Lucas Duda.
But then, the posts started to focus on making fun of the big man.
A pic was posted of Lucas having a moment with essential protective gear...
...and one video showed Curtis Granderson making fun of a very serious ESPN filming session.
Hell, Granderson even tried to get Duda to run his watch in the clubhouse.
And the veteran stays bugging Duda while he's trying to eat in peace.
It looked like Lucas Duda finally had enough of the harassment...
...so Granderson had to take it to the next level with the bathroom cam.
Boys will be boys, right?