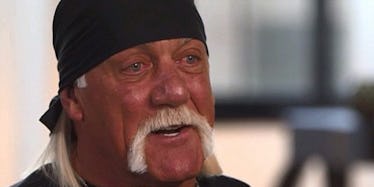 Hulk Hogan Apologizes For Using N-Word And Claims He's 'Not A Racist' (Video)
Last month, the WWE wiped wrestling legend Hulk Hogan from the record books for his use of the N-word.
The outburst, made in reference to Hogan's daughter's boyfriend at that time, occurred years ago but only recently came to light.
Hulk Hogan, or Terry Bollea, broke his silence about the outburst on Monday in an interview with Amy Robach on "Good Morning America." During the interview, Hogan apologized for his use of the racial slur and made it clear he doesn't consider himself a bigot.
He said,
I'm not a racist. I never should have said what I said. It was wrong. I'm embarrassed by it.
Hogan went on to explain how commonplace it was where he grew up for him and his friends -- black and white -- to use the N-word casually in greetings.
The Hulkster also asked his fans for forgiveness, shared how devastated he felt to have his storied career wiped from the history books and became emotional at the mention of his daughter, Brooke.
Hogan especially teared up after Robach recited a line from a poem Brooke wrote in defense of her father.
Only time will tell if the public is ready to accept Hogan's apology.