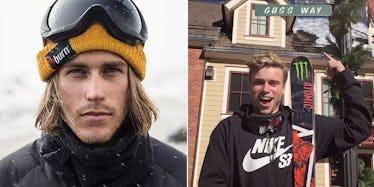 Meet The 11 Hot Guys Taking Over The Winter X Games
Instagram
Winter can be tough for hottie spotting.
All those layers, scarves, hats and helmets really limit your view, but trust us, under all that gear is a whole lot of beefcake. Check out a few select studs we found competing at the Winter X Games in Aspen, Colorado.
Gus Kenworthy
Augustus Richard "Gus" Kenworthy may be one of the most swoon-worthy athletes around.
The freestyle skier from Colorado stole hearts around the world during the 2014 Sochi Olympics when he famously brought a litter of homeless pups back to the US to find new homes. Oh, he also took home a silver medal.
Bobby Brown
Excuse me, Bobby, but who do you think you are with that million-watt smile while in midair?
This stud also comes packing three X Games gold medals and is the first person ever to have landed a Switch Double Misty 1440. He's also besties with Gus, so just go ahead and imagine these two together.
Mike Shea
Without question, you need to follow Mike on Instagram. His pictures literally sizzle they are so hot.
The 32-year-old from SoCal lost his lower leg in 2002, but was back on a board two months later and claimed the silver medal in Sochi in 2014. Bonus: His roommate is fellow X Games hottie Keith Gabriel.
Jossi Wells
Jossi is not only a full-time badass on Instagram (with a dog like that, how can you not be), he's also a four-time X Games medalist from three different disciplines -- Big Air bronze in 2012, SuperPipe silver in 2010 and Slopestyle silvers in 2008 and 2013.
Jesper Tjäder
Jesper may be our favorite new athlete to watch. The up-and-coming 21-year-old from Sweden was an alternate in the 2014 X Games, but will soon have his moment to shine at Winter X Games 2016. Also, he's adorable.
Sebastien Toutant
Sebastien, also known as "Seb Toots," is a Canadian snowboarder and a four-time X Games medalist. Kind of makes you want to put on your snowbunny gear and visit our neighbors to the north, am I right?
Stale Sandbech
Stale is a four-time X Games medalist and is also the proud owner of a silver medal from the 2014 Olympics in Sochi. According to his Instagram account, he is also a part-time world traveler and full-time life of the party.
Max Parrot
This 21-year-old Canadian and four-time X Games medalist often competes against the other Canadian on our list, Sebastien.
In April, Max was also the first person to complete a Cab quadruple flip. We'll be keeping an eye on this one for more than his good looks.
Sage Kotsenburg
Sage, who started snowboarding at the age of 5, won the first-ever Olympic gold medal in men's snowboard slopestyle at the 2014 Olympics in Sochi. He owns 2 more pieces of hardware, one bronze and one silver, from the X Games.
Øystein Bråten
The 20-year-old Norwegian freestyle skier became the first man to ever land a "flip-on flip-off" rail trick when he successfully completed an underflip 450 onto the rail and stomped a misty 450 off of a rail in April of 2015. Not sure what that means?
Either trust us that it's super badass, or watch it here.
Matti Suur-Hamari
Matt is a Finnish snowboarder who lost his left leg, below the knee, due to injuries suffered in a motorcycle accident in 2009, but that hasn't slowed him down one bit. His Instagram account is filled with epic travel photos and ridiculous gym selfies, and we don't mind...one bit.
Check out all the X Games hotties in action starting January 28.
Check out Elite Daily's complete X Games coverage here.