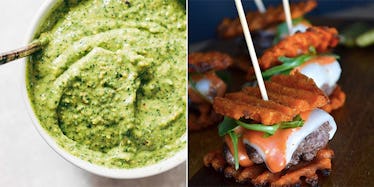 20 Healthy Tailgate Treats That Won't Suck The Fun Out Of NFL Sunday
Instagram
It's been real, summer, but it's time to face the reality. September is here.
Sure, that means beach and summer Friday season is coming to an end, but it also means football is back in action.
College football starts today, the NFL kicks off in a week and I'm getting excited just thinking about spending eight hours in front of the television watching RedZone on Sundays.
Not only does the NFL's return indicate non-football events will no longer be scheduled on Sunday -- or Monday or Thursday, for that matter -- it also guarantees tailgating season is back with a vengeance.
But just because you have tickets for the game, or you're attending a friend's Sunday Funday, that doesn't mean you have to enlist for the heartburn and indigestion often accompanying football festivities.
It's 2015, people. You have way more options than just a hamburger or a hot dog -- not that there's anything wrong with putting down three brats in the parking lot before kickoff.
Here are 20 healthy tailgate treats that will delight your tastebuds without leaving you feeling sacked come Monday morning.
The Ultimate Greek Burger with Organic Ground Chicken, Feta, Spinach and Tzatziki on a Pretzel Bun
High-Protein Edamame Hummus
Mango Chili Chicken Lollipop
Creamy, Healthy Coleslaw
Stuffed Padrón Peppers wrapped in Bacon
Grilled Bacon Chicken Caesar Salad on a Stick
Sweet Potato Nachos
Thai Peanut Chicken Wings with Fiery Pineapple-Jalapeño Salsa
Quinoa Black Bean Veggie Burger
Cauliflower, Pea and Edamame Whole Wheat Pasta
Wagyu Beef, Sriracha Aioli, Sweet Potato Fry Sliders
Zucchini, Chickpea and Feta Veggie Burgers with Minted Yogurt Sauce
Healthy Individual 7-layer Dips
Mini Pork and Pickled Veggie Banh Mi Wonton Tacos
Coconut Honey Lime Filipino Chicken Adobo Skewers
Hawaiian BBQ Dogs with Mango, Chili, Pineapple and Lime Relish
Simple Salty Sweet Potato Skin Chips
Vietnamese Meatball Lettuce Wraps with Mango Salad
Five-Minute Magic Green Sauce
BBQ Chicken Pizza Stuffed Zucchini Boats