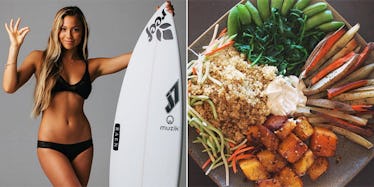 10 Commandments Of Healthy Eating, According To Pro Surfer Tia Blanco
Pro Surfer Tia Blanco is like most athletes who have an impressive physique.
LeBron James has his no-carb diet. Danica Patrick has her yoga. Seth Rollins has his CrossFit, and the list goes on.
Blanco is no different. She's one of the many athletes who is not only physically fit but has developed her own set rules to live by when it comes to keeping her body that way.
Here, the 2015 ISA World Champion provides some of the simple rules she has for nutrition intake. Below are Tia Blanco's 10 commandments of healthy eating.
Never calorie restrict.
Calories are fuel that get you through the day, through the wave, through life. Especially if you lead an active lifestyle, always make sure you're getting enough.
Eat until you are full.
Pay attention to your body! Make sure to eat slowly, chat along the way, but stop eating once you're full. Eating for taste will weigh you down and stopping short will leave you lagging.
Eat as clean as possible.
Pay attention to what is in your food. Staying away from long ingredient lists and refined/overly processed foods will leave you with more energy. Less is more -- stick to fruits and veggies!
Do not be shy of carbohydrates.
Carbs are not evil! They are good sources of energy that help you absorb the nutrients you take in. Ancient grains like quinoa, farro and chia are all good sources of carbohydrates.
Cut out meat.
Animal protein is hard to digest, it's hard on the environment, and it's hard on your conscience. If you're craving meat, try some of the plant-based alternatives out there. I've partnered with a company called Beyond Meat that makes some very clean and tasty options.
Cut out dairy.
Get creative and you'll find you won't even miss it! Blend up a frozen banana, a very small amount of almond milk and boom! You've got a mean banana ice cream (add in your favorite berry for a little more flavor).
Try to eat low-fat if you want to lose weight.
Having a revitalizing smoothie is a great breakfast option. It leaves you feeling full with plenty of energy to take on the day: Blend up a handful of leafy greens (kale, spinach, chard), two bananas, 1 tbs of Spirulina, 1 cup of mango and as much coconut water as needed.
Satisfy your sweet tooth with fruit.
Fruit is nature's dessert, and having the right amount of sugar in your diet is important. Mangos, berries, bananas, pomegranates and watermelon are all great ways to get your fix (without the crash).
If you want to cook with oil, try coconut oil.
Cooking and frying foods with oil is not the healthiest style of preparation, but using coconut oil is a nice alternative to the refined oils that are used in most recipes. You can even use it on your hair and skin!
Eat plant based.
I always get asked, 'How do you get your protein?' Plants have tons of protein! And a plant-based diet is much better for muscle recovery and reducing inflammation. Here's one of my go-to post workout recipes: cooked brown rice, sweet corn, black beans and Beyond Meat Chicken Strips mixed in with a rainbow salad (raw kale, cherry tomatoes, raw purple onions, pumpkin seeds and cranberries).
For more of Tia's nutritional tips, follow @TiasVeganKitchen on Instagram.