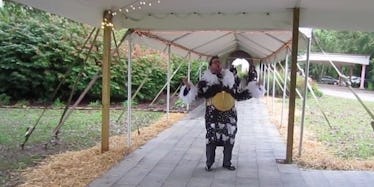 This Groom Stole The Show With His Ric Flair-Inspired Wedding Entrance
I don't know anything about being married, but from what I've heard, it's terrible.
It's pretty much all a downward spiral after the wedding, so why not have a little fun during the ceremony, right?
One dude did just that before jumping into his new life. He decided to upstage his wife and show up like Ric Flair with the robe, belt, theme song and all.
For those of you who don't understand wrestling, it's a show. And what better place to showcase your ego than in front of everyone you love?
Ric Flair would've been proud. But clearly, someone's been watching too much WWE Network.