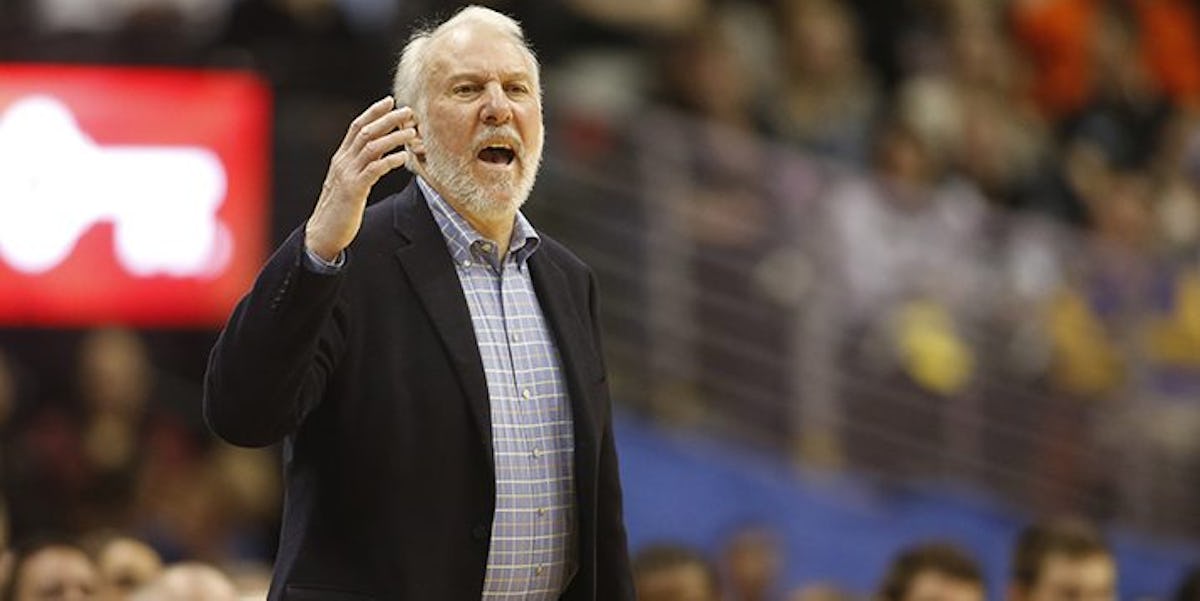 Gregg Popovich Gets Real About Racism In America: 'It's Our National Sin'
REUTERS
Gregg Popovich is back at it again.
After the San Antonio Spurs coach was asked Thursday to comment on Black History Month, he gave a concise and sharp response that emphasized racism as both a problem of the past and present.
He told the San Antonio Express-News,
More than anything, I think if people take the time to think about it, I think it is our national sin.
The fact that Popovich was able to answer the question so adequately is no surprise, either. The 68-year-old has drawn praise for his thoughts on politics.
This time, though, he addressed matter pertaining to race, and he provided a number of key lines worth discussing here.
"It always intrigues me when people come out with, 'I'm tired of talking about that,' or, 'Do we have to talk about race again?' And the answer is, 'You're damned right we do.'"
Racism is a topic that's no fun to talk about. It is so tiring and so exhausting, and people just don't want to hear about it all the time.
But, dealing with actual racism, decade after decade, is much more tiring and much more exhausting. And until people don't have to deal with it anymore, people will feel a responsibility to talk about it.
"Well, if you lace up your shoes and you work hard, then you can have the American Dream. That's a bunch of hogwash."
The idea that "hard work solves all" definitely sounds good, but it simply doesn't line up with reality. Just think about some of the numbers researchers have found.
Because of the way American neighborhoods are still segregated, black families making $100,000 or more live in more disadvantaged neighborhoods than white families making less than $30,000.
Even graduating from college isn't magic bullet; black graduates typically have twice the unemployment rate of white graduates.
Popovich is right to dismiss hard work as a response to racism.
"We have huge problems in that regard that are very complicated, but take leadership, time, and real concern to try to solve."
If there's anything black history teaches, it's that the issue of racism is complicated and has so many layers. Simply working hard or not saying certain words to each other is no sufficient answer, either.
It definitely take time, like Pop says, but that time will be wasted if too few people lack the amount of concern that such a huge problem demands.
"It's a tough one because people don't really want to face it."
Addressing racism is uncomfortable for both sides. Black people may not want to confront the fact that their race is being unfairly held back in too many ways to count.
On the other hand, white people, especially those who didn't grow up with a silver spoon in their mouth, may not want to confront the fact they have an unfair advantage, regardless of how much money they grew up with.
Both groups could feel insulted by these conversations.
Like Pop' said, it's tough. But that doesn't make racism any less of a problem worth dealing with.
"And it's in our national discourse. We have a president of the United States [Donald Trump] who spent four or five years disparaging and trying to [de]legitimize our president [Barack Obama]."
This is probably an underrated point, but one that's worth underlining.
Even black people who achieve the highest levels of success can't avoid having perceptions of their race negatively affect them.
In its present form, racism is simply inescapable, whether you're the president of the United States or a college graduate who worked hard for a degree.
The "national sin" is a huge problem, and it's important that men of influence outside of the black race (like Pop, a respected figure in a conservative state) acknowledge that.
After all, it's important that this is stressed as a problem for not just some Americans, but for all of us.
Citations: ESPN