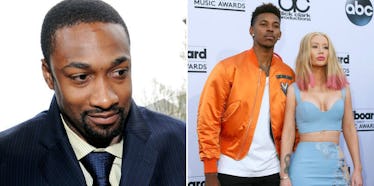 Gilbert Arenas Savagely Called Out Nick Young Over Iggy Azalea On Snapchat
REUTERS
Guys, Gilbert Arenas is a fucking savage.
We know this thanks to Arenas' recent Snapchat story, which is a video of him breaking into Nick "Swaggy P" Young's house and harassing the crap out of him and his son.
Now, you might not think Arenas could clown on Young to the point of me calling him a savage, but after watching the below video, you're going to be trying to find a word stronger than savage to describe Gilbert's behavior.
Warning: This video contains graphic language and is extremely savage in nature.
You'll notice Gilbert Arenas' Snapchat username is NoChillGill, and, man, is that the understatement of the century. Like, obviously Nick Young didn't give you the gate code, look how you taunted him and made him look like an idiot.
If there's such a thing as bro code (or basic human decency), Gilbert Arenas certainly doesn't know about it. And you know what, thank the lord. This video had me in tears.
Let's recap some of Arenas's best lines, shall we?
Why you cheating on Iggy all the time? Where the bitches at? You know I'm the new OJ, right? I'll take care of her for the low, low price. You got a basketball court in your backyard, and you still can't get no mother fucking playing time. Do you like me? Then I don't like you either. I'm just making room for your IG bitches.
This man snatched Nick Young's son's scooter like it wasn't shit. Can we talk about the sad flower sticker Arenas used to show us Iggy Azalea left Young with no furniture? I mean, come on.
Gilbert Arenas, thanks for being such a savage.
Citations: Gilbert Arenas Breaks Into Nick Young's House To Harass Him About Iggy Azalea In Hilarious Snapchat Video (Bro Bible)