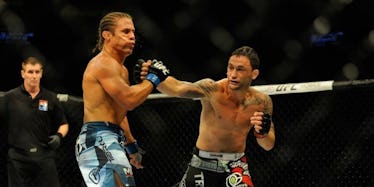 Frankie Edgar Talks Split Decisions, UFC 200 And Taking Down Conor McGregor
Getty Images
UFC featherweight Frankie "The Answer" Edgar believes he's destined to become champion once again.
The New Jersey native made his UFC debut as a lightweight in 2007, well before the promotion had a featherweight division.
But he saw no fear in competing against men who looked twice his size, and in 2010, he captured the lightweight title from the legendary BJ Penn.
Edgar moved down to featherweight three years later, losing a very close contest to former champion José Aldo before going on a five-fight win streak.
Other fighters would be contemplating retirement at 34 years old, but Edgar appears to have earned another title shot with his stunning first round KO of number three ranked featherweight Chad Mendes.
That title shot would've been against Conor McGregor.
Featherweight champion McGregor, however, instead chose to move up a weight class and fight Rafael dos Anjos for the lightweight belt this upcoming March. Now it looks like Edgar will have to wait until July to face McGregor, a dangerous striker who some suspect will struggle against Edgar's relentless pace and world-class wrestling.
Elite Daily caught up with Frankie Edgar to hear his thoughts on the rumored fight and his future in the UFC.
The McGregor fight is not yet booked, but Frankie is confident it will happen.
When speaking of the match, he said,
I see it happening... As long as his fight [with dos Anjos] goes well. As long as he comes out of the fight uninjured, we'll be the headline fight at UFC 200. I believe I earned it, I got a good feeling I'm gonna get it. But nothing solid to say that it's definitely gonna be me.
Former champion José Aldo was knocked out by the Irishman in just 13 seconds into the first round last month. Fans, however, weren't entirely surprised; Aldo seemed to be visibly affected by his opponent's mental warfare.
Frankie doesn't see Rafael dos Anjos making the same mistake.
According to Edgar, the Brazilian's confidence will not falter.
He said,
I kind of know Rafael personally a little bit. He's a very strong believer in himself. Thats what he's banking on. I don't think he's gonna get emotional. It's tough to say until you get in there, I guess. I like to say I wouldn't get emotional either but you never know.
He added Conor's "hands are gonna be full" with dos Anjos, who also finished his last opponent in the first round.
But McGregor seems to possess incomparable accuracy, which will allow him to end the fight with just one punch.
Edgar isn't intimidated; he's become an expert in avoiding damage.
He reminded Elite Daily very few fighters have managed to hurt him, saying,
I don't get hit much. In a couple of fights, I took some big punches, but that's really about it.
Speaking of Conor's power, he said,
I'm not too worried about it. If I was to fight Conor, I wouldn't sit there worrying about getting hit. I'm just gonna do what I do best.
Edgar is also a true mixed martial artist, while McGregor only seems comfortable on his feet.
The Irishman will definitely have to learn some wrestling and Brazilian Jiu-Jitsu to counter Edgar's takedowns.
Edgar noted his opponent is likely well-aware of his disadvantage. He continued,
I'm sure he's working on it. He better be. The UFC hired [Olympic gold medalist] Jordan Burroughs to be his wrestling coach. He knows that's his weakness. It's not something you learn overnight, especially wrestling. It's a feel-type of sport, takes time.
Edgar may be a seasoned veteran, but he's looked better than ever lately.
A championship victory would place him among the oldest champions in the UFC.
He explained why he's been able to maintain such dominant athleticism,
I feel like I'm in my prime, still motivated, still train very hard. My body doesn't really bother me too much. But it's a little different with the lighter weight guys, getting older. Some heavier weight guys don't go at it with the speed which we do.
Many fans believe the judging system, possibly the most controversial issue in the UFC, needs a massive overhaul due to a series of arguably wrong decisions.
Edgar agrees.
He said,
I think [the judging system] should be [changed]... I don't necessarily know what those changes should be, but obviously it's flawed. It keeps coming up over and over again, decisions that we feel aren't just. I just don't know if they should be using the 10-8 system, the 10-9 system like boxing. people say maybe add more judges but then you add more chance of human fault. The pride system wasn't bad, there's a lot of options.
Edgar offered an interesting plan to put an end to undeserved wins and losses.
He suggested experience is the key in legitimizing MMA judging. Edgar said,
I think having ex-fighters who become judges would also help out. Guys that are much more familiar with being in the octagon making decisions.
Along with several other big-name bouts, Edgar vs. McGregor is likely to take place at UFC 200 on July 9.
Should Edgar win, he would prove all the trash talk and movement training in the world cannot overcome the power of heart, experience and sheer intensity.
Both fighters would face arguably their toughest tests to date, but only Edgar must take on the additional task of derailing momentum that currently knows no direction but up.