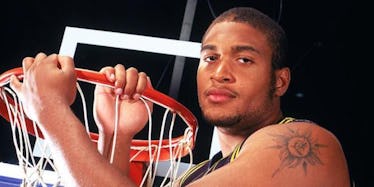 How A Former NBA Player Went From The Pros To Working At McDonald's
David Harrison was selected in the first round of the 2004 NBA Draft by the Indiana Pacers. Nine years later, he was working at McDonald's.
A former promising center out of the University of Colorado, the 7-footer had all of the tools to make it in the NBA, and gave the Pacers every reason to believe he would.
But Harrison experienced a rough start to his career, averaging a meager 5.9 points and 3.5 rebounds per game. His low output resulted in decreased playing time, which did little to help Harrison's confidence, and even less for his game.
In a recent interview, Harrison explained he could see the end of the line for his NBA career once Indiana hired Jim O'Brien as the team's head coach in 2007.
Harrison says it was "the worst time of [his] life," and claims O'Brien was not only rooting against the big man's success, but was verbally abusive to him as well.
As many a failed athlete story goes, Harrison soon turned to smoking pot. Every day. Before and after practice.
At 25, Harrison was out of contract and staring at the realization that his NBA dream had ended up a nightmare. He spent stints overseas and in the D-League, but that never materialized into another shot at the pros.
In 2013, despite making $4.4 million during his four-year career, the former McDonald's All-American had his credit card declined while attempting to buy his son a Happy Meal at McDonald's. The manager gave him a job.
He said,
People were showing up trying to take my car. My house was in foreclosure. I didn't have any income. I just had everything going out. I have child support to one son. I have a really big family and I have to take care of them, even though I'm not playing in the NBA. I needed money.
That gig only lasted three weeks, due to the ironic fact that Harrison's short-lived stardom had made him too recognizable. He was a distraction at the McDonald's.
Now 32 years old, Harrison says he makes some cash trading stocks, but can't get another job. Another irony for this ill-fated baller is that while he's only 16 credits short of receiving a degree, he can't afford to go back and finish school.